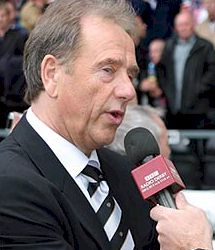 Rams Chairman Peter Gadsby issues a vote of confidence in his manager
Billy Davies has the full support of his Chairman and the rest of the board at Derby County and there is trust between himself and the Chairman.
In a statement issued by Derby County Peter Gadsby has "vowed to stick by Billy Davies even if we are relegated". He went on to say that support and funds would be made available, should the un-thinkable happen and the Rams go down to the Championship next season.
Some bookies have paid out already on the Rams being relegated with the season only 9 games old. Now it seems even the Chairman of the club is talking about what will happen when, or if the Rams are relegated.
The Chairman talks of funds being made available to return us to a league we are already in. Surely it would make more sense to talk about making funds available in January to try and ensure Derby County's place in the elite of English football?
Or is this just the dreaded vote of confidence that many managers dread to hear?