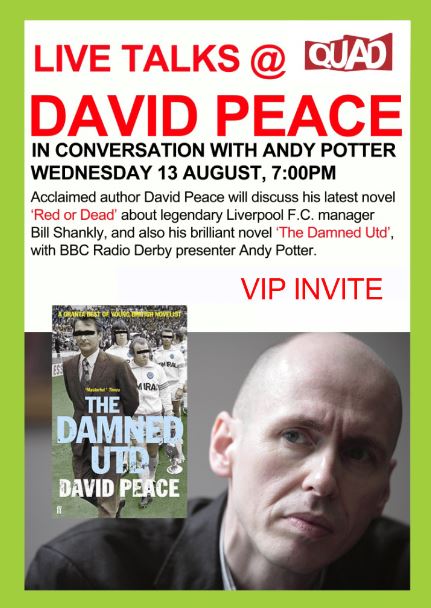 Last evening a group of like-minded people attended the Quad in Derby. The evening arranged by Peter Bonnell and his staff was one of the highlights of this summer's celebration of football at the Quad.
This being my first visit to the Quad I had no idea what size of auditorium or its comforts awaited me. It was a pleasant surprise when shown into cinema two for the evening's event. The seating is certainly very comfortable and I was able to relax before proceedings began.
Promptly at 7.00pm David Peace accompanied by BBC Radio Derby Andy Potter took to the stage. A reading by David Peace of his new book 'Red or Dead' took place then took place under the backdrop on the cinema screen of the front cover, an imposing shot of Bill Shankley leading out Liverpool at one of their numerous Wembley appearances.
The assembled throng listened intently to David and following the reading he chatted to Andy Potter about the new book, his life and love of football. You would expect someone who has wrote at least two football related books to be a fan of Manchester United, Chelsea, or even Dirty Leeds but David revealed he is a Huddersfield fan, like his father and son, although he doesn't share the mad fanaticism of his relatives. Indeed it would be hard for him to share his passion for Huddersfield by actually going to games as he now lives in Tokyo.
Courtesy aside for the new book, we settled down to what most of the audience had come for, to listen to, talk about and try to understand the mind-set of the author who wrote the Damned United and portrayed Brian Clough's 44 day stay at Leeds United .The build up to that period being based around his time managing Derby County. David explained he didn't write a biography of Clough and readily admits he did use poetic license and his own vision of Brian Clough based on facts and snippets he picked up whilst researching the book.
A real person in the book and film of the Damned United (Roy McFarland) was in attendance during the evening and picked up on the fact, during a question and answer session, that David portrayed Clough as being a man who swore a lot. McFarland said he was disappointed in the film and book for this, as Brian didn't swear all the time, just when the occasion warranted it.
The evening was a great success in my eyes and was a great insight into the Author and man David Peace and his nine published novels. Yes he has been controversial in his writing and many objections may have been raised by Brian Clough fans and family. Indeed he said he regretted not letting the Clough family read the book before publication, but the novel was written through his eyes and his interpretation of Brian Clough and was not an autobiography but a novel.
Thank-you once again to all concerned...