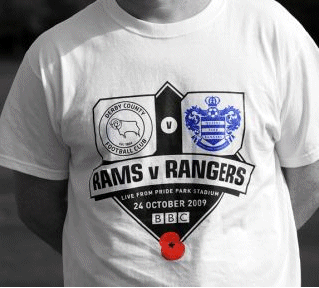 Dozens of fans threw their free t-shirts onto the pitch in frustration

Last Saturday 'Wear White Night' turned out to be a big disappointment, but it must've been a thrilling game for the neutrals watching on BBC2.



For me, and I'm sure all Rams fans, it was a roller-coaster of emotions in one game.

Right from the start it was clear that QPR had more quality, more pace, and generally were a better footballing team but, despite that, they didn't create many chances from all their pretty football as Shaun Barker and out-of-position Paul Connolly kept them at bay.



At the other end, Derby County grabbed themselves a 2-0 lead through the quick thinking of Robbie Savage and Paul Dickov for the first, and a brilliantly taken free-kick by Savage for the second. Amazingly it could've been 3-0 but for a brilliant save by Radek Cerny from Rob Hulse's header, and a piece of Rugby Union kicking by Gary Teale.



That was as good as it got though. A goal from QPR either side of half-time saw the visitors draw level and, after that, there was only going to be one winner as the Rams collectively lost confidence and too many players went into hiding and stopped showing for the ball.



Whilst I certainly didn't condone the throwing of the free 'Wear White Night' t-shirts onto the pitch while the game was sill in progress, I most certainly understood, and indeed shared, the frustration.



I do wonder though, whether General Sports and Entertainment (GSE) were regretting the decision to issue free 'Wear White Night' t-shirts as they witnessed them being tossed onto the pitch in their dozens? The latest Fans First initiative was designed to make Pride Park Stadium a sea of white and present a united front on national TV. Well that one certainly back-fired in spectacular fashion, didn't it?



In my opinion, QPR are the best team we've played this season but, that said, Derby County got themselves into a 2-0 lead after 36 minutes and, from that position, the Rams really should've got something out of the game. If not three points, then at least one.



Adam Pearson resigned as Chairman of Football and looks set to return to Hull City

This week though has been dominated by the news that Adam Pearson has resigned as Chairman of Football. With Tigers chairman Paul Duffen resigning a day later, it looks odds on that Pearson will return to Hull City on Monday after spending the weekend with his family at Center Parcs. Clearly this didn't all happen by coincidence within 24 hours and a lot of talking has gone on behind the scenes.



With Pearson gone, Tom Glick will add Pearson's responsibilities to his own and will now head up the business side of the operation and support manager Nigel Clough on the football side. I must admit, once Pearson had overseen the takeover by GSE, I never understood what his role as Chairman of Football actually was or what he did. It always sounded like a Director of Football role by another name to me and always looked like one job too many, one chef too many in the kitchen.



So GSE now have complete control and the manager has one less link in the communication chain and should have the ear of the powers that be. I'm hoping that's a good thing, but I guess we won't really know until 1st February 2010 when the January transfer window closes.



One of the positives though was the return of Stephen Pearson and Steve Davies, although both are still some way short of full fitness and neither was risked against Macclesfield Town in the midweek reserve game. Arnaud Mendy also returns to the squad after Grimsby Town cancelled his loan in the fallout of Mike Newell's sacking. More good news came with Fredrik Stoor's loan being extended for two more months.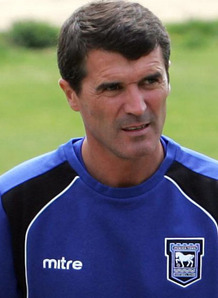 Surely Roy Keane is under more pressure than Nigel Clough?

So it's another big game on Saturday as Derby County travel to Portman Road to face Ipswich Town. Whatever pressure Rams manager Nigel Clough is under, surely Ipswich manager Roy Keane is under a hell of a lot more.



Pre-season expectations were a lot higher at Portman Road than here at Pride Park, yet Keane's team find themselves bottom of the Coca-Cola Championship with no wins from 14 games and massive speculation that Peter Taylor is about to be brought in as Keane's number two.



Whatever the result on Saturday, Ipswich Town could still be bottom and will, almost certainly, remain in the relegation zone. Derby County, on the other hand, are four points clear of the bottom three and I'd rather be in our position than Ipswich Town's.



Two teams low on confidence and conceding too many goals. Ipswich Town have yet to win this season, Derby County have yet to win away. Something's got to give. Unless it's a draw, of course, which it very well could be, something's got to give.



Let's hope it gives our way!



Stuart Hughes

30th October 2009