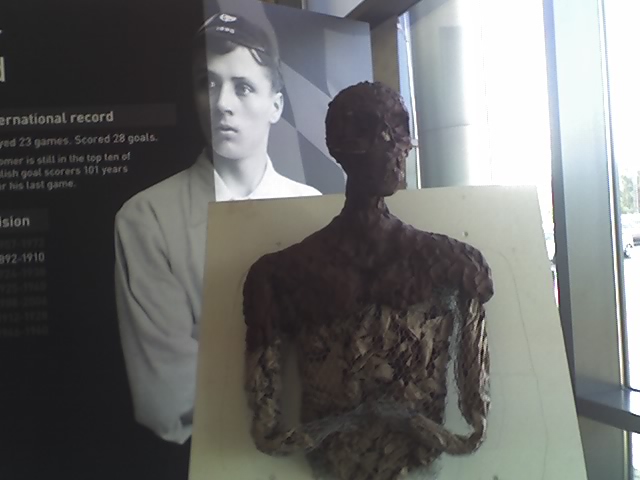 Donations from you the fans will see this preliminary clay frame morph over the next few weeks into the model ready for casting in bronze and then unveiled in its final position next to the home dug-out in early 2009

The long awaited winners of the Derby County football shirt and the Derby County mad T-shirt have been drawn at random at Derby County Mad HQ.

To maintain the suspense even longer we wish to pass on our sincere thanks to Vicky Pritchard, who has kindly donated the brand new Derby County football shirt for us to raise funds for the Steve Bloomer bust, which we hope many of you caught the launch of on the local TV last night.

Through Vicky's kind act we have managed to raise £219 in donations to the project.

Now then back to the exciting bit, in second place and the recipient of a rather dashing Derby County Mad 08-09 T-shirt, Our man in Hong Kong, not sure if he wants his identity revealed but this guy did donate £100 to the project, which was a magnificent gesture. We are only sorry that you didn't win the first prize of the Derby County home shirt.

Right back to the big one………Drum roll please…. The winner of the Derby County home shirt is again another rams supporter who doesn't live in Derbyshire, in fact he doesn't live in the country but our congratulations go to Mark Towler out there in County Clare, Ireland.

All prizes will be winging their way to the winner by first post tomorrow morning. Once again I would like to give my heartfelt thanks to everyone who contributed to the Steve Bloomer Project and to those who haven't yet donated you will find a link to be able to donate on the official Derby County website.

Alternatively you can go and visit the sculptor, Andrew Edwards, at work in the foyer of Pride Park starting this Monday 10.00am till 4.00pm and help with the construction whilst giving a little in the collection bucket.

Further bucket collections will take place after the Plymouth game for anyone else who would like to have a part in raising this tribute to Derby County's greatest goalscorer...