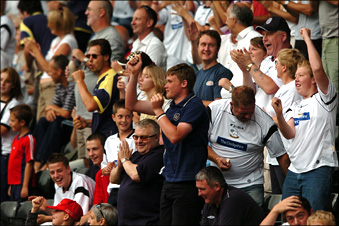 Stand and be banned is the message coming from Derby County
Derby County does not have a huge standing problem, but pleas for those that do to respect others and stay seated during the game have been unheaded by certain sections of the Derby County supporters at matches at Pride Park.
Sunday's game will see the 'no standing' rules enforced by Safety stewards and the police. Anyone not abiding by the rules will be handed a banning order for an initial 3 game period.
The moves follow an incident where a young fan fell from a seat he was standing on to try and see over others that were standing in front of him. Accidents of this nature are bound to happen if people do not respect others behind them and stand during the period that the game is being played.
Notices have been placed around pride Park Stadium and Rams manager Billy Davies hopes that a personal letter from himself will have the desired effect on those that have continued to stand despite constant reminders from officials at Pride Park...