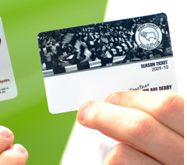 Many season ticket holders have been struggling to get into Pride Park since the start of the season following the new issue tickets this season.
Ticket holders that use the turn stiles near to the ticket office have found that the can't enter the ground using these entrances due to a malfunction with the new card.
Derby County have had to write to the people effected several weeks ago but the long wait to be able to use their season tickets in the way they were intended should soon end. New tickets to replace the tickets sent out just days before the season started have now arrived but users will have to wait until 20th October to find out if they now work.
The game against Blackburn Rovers should see all ticket holders able to access the ground through the turn-stiles………Fingers crossed.!