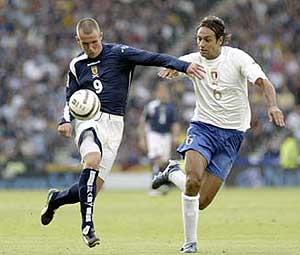 Kenny Miller leads the Scots in a 1-1 draw with Italy
Scotland boss Alex McLeish is looking to Derby County to spearhead the countries challenge for qualification to the 2008 European Championship finals. The Scots already sit proudly on top of the qualifying table after beating France home and away and are looking favourites to qualify.
McLeish sees Rams top scorers Kenny Miller as the key to success in next weeks matches against Ukraine and Georgia, saying "he has been an important part of the Scottish set-up during the last couple of years".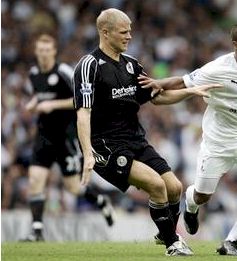 Jay McEveley aslo in the Scotland squad
Scotland could also benefit from other Derby County players, defender Jay McEveley and midfielders Stephen Pearson and Gary Teale are also in the squad, along with former Ram, Christian Dailly.
The Scottish contingent of Rams however have an important game on Sunday as they face Reading in another Premiership basement tussle .Victory would see the Rams leap-frog Reading and possibly pull themselves out of the relegation zone.