Rams V Rangers (Fans)
On a cool but mainly dry May Day at Christchurch Meadow Belper, home of Belper Town FC, the fans of Derby County and Rangers fought out a very competitive and entertaining game of football.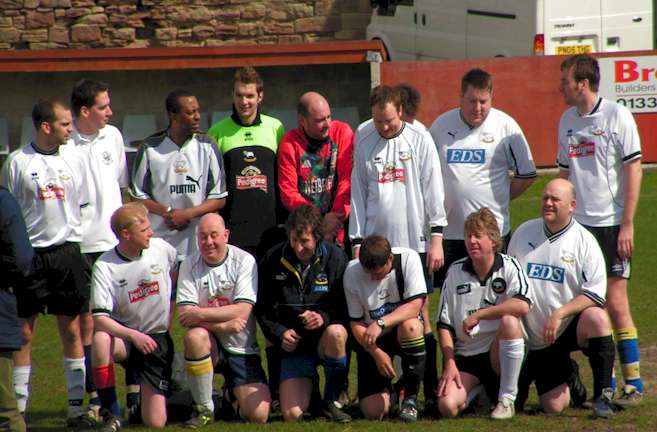 Ramsnet team






















The two teams were made up of fans who mainly keep in touch via the Internet. Derby County were represented by Ramsnet and the Rangers players were members of the Rangers Trust.
The game started well for the Rams as they struck in the opening minutes and made the deficit two within twenty minutes. Derby at this stage were running the match and looked in full control.The Rangers side had been short of a player just minutes before the game but other came to strengthen the Scottish side.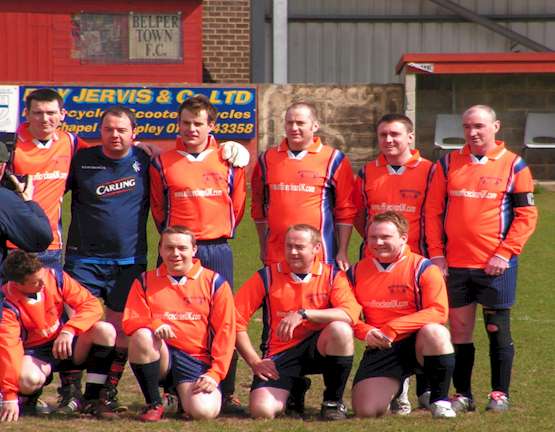 Rangers Trust Team
Derby Ramsnet looked out of sight when one of their players was brought down in the penalty area and the resulting penalty kick was rifled into the roof of the Rangers net. This however was when the Scots decided to wake up and slowly they put preasure of the Rams side. The now fitter and younger looking Rangers side scored on the half hour to make the score 3-1.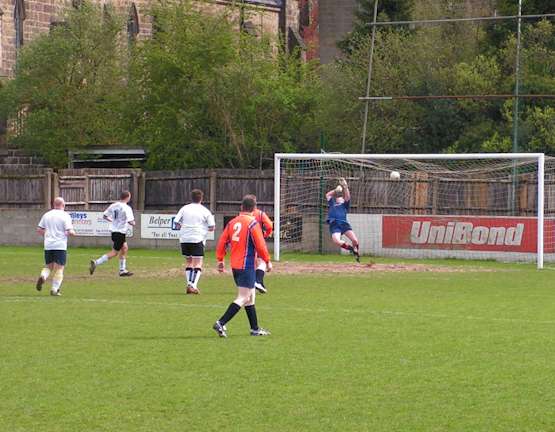 Superbly taken penalty puts the Rams side 3-0 up
As the Rangers side continued to push the Rams side toward their own goal, it was inevitable that another goal was going to come for Rangers and it did with five minutes to go before the break. Derby now looking very tired did however hold out until half time, giving them a 3-2 advantage.
The half time rest was badly needed by the Derby side but with batteries re-charged they took to the field for the second period. Rangers took full advantage of their youthful and possibly fitter side just minutes after the re-start. The score was now tied at 3-3 and despite a few chances to re-gain an advantage the Rams were looking like being on the wrong end of final score-line. With half an hour to go of the game this reporter unfortunately had to leave for family reasons and at the time of writing the final score was not known……….A final report will appear here at some point.
The final score was in fact 3-3, exactly the same as the Ted McMinn game later in the day.