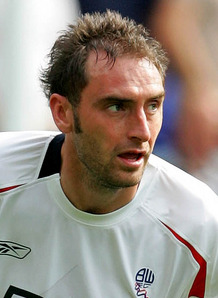 Nicky Hunt could join the Rams as soon as this weekend if Bolton agree new manager

The Rams are looking to bring in another right back this week in the form of twenty six year-old Nicky Hunt. Hunt is currently playing for managerless Bolton Wanderers and the Rams will have to wait until the situation at the Reebok is resolved before taking Hunt on loan.

Hunt spent time on loan last season to Birmingham City, who were promoted to the Premiership at the end of the season. He played 11 games whilst at St Andrews.

The Rams financial policies have meant they were unable to offer another right back loanee, Fredrik Stoor a permanent move to Pride Park last month and hope Hunt will be able to take on the role that Stoor filled so admirably.

An ex England U21 star, Hunt played on ten occasions for his country during the 2004-05 season.

It is hoped that Hunt will be signed in time for this weekends game against Scunthorpe United.

Date of birth

Saturday, 3rd September 1983

Height

6.3

Place of birth

Bolton, England

Weight

11.0

Nationality

England

Position

Defence

Comments

Squad No.

2