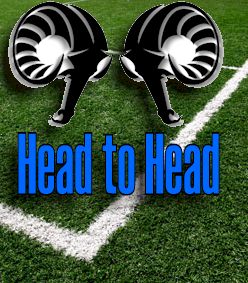 Another in our series of Head 2 Head articles.
As you can see below the Rams have a slight lead overall in the meetings of the two teams with 15 wins to the Seagulls 12 and 3 draws.
Derby County have enjoyed some high scoring wins over the years but wih Brighton now high flyers in the Championship, we are sure the result will be closer this time around.
ou will also note that Derby had their biggest win over Brighton in the FA Cup during the 1945-46 season, winning 6-0 at home and then 4-1 away. Hardly surprising really as this was the year Derby County lifted the FA Cup for the first, and so far only time.
Don't forget ou can get every head to head that Derby County have ever played by taking a look at our 'Head to Head' feature on the main website...
At Derby County (14)
At Brighton & HA (16)
Results
Total
%
Results
Total
%
Derby County
9
64.29
Brighton & HA
8
50.00
Brighton & HA
4
28.57
Derby County
6
37.50
Draws
1
7.14
Draws
2
12.50
Goals
Total
Av.pg
Goals
Total
Av.pg
Derby County
30
2.14
Brighton & HA
24
1.50
Brighton & HA
13
0.93
Derby County
21
1.31
On Neutral Ground (0)
Overall (30 matches)
Results
Total
%
Results
Total
%
Derby County
0
0.00
Derby County
15
50.00
Brighton & HA
0
0.00
Brighton & HA
12
40.00
Draws
0
0.00
Draws
3
10.00
Goals
Total
Av.pg
Goals
Total
Av.pg
Derby County
0
0.00
Derby County
51
1.70
Brighton & HA
0
0.00
Brighton & HA
37
1.23
Records
Highest Aggregate
6
Derby County
6 - 0
Brighton & HA
1945/1946
Highest Derby County score:
6
Derby County
6 - 0
Brighton & HA
1945/1946
Highest Brighton & HA score:
3
Derby County
0 - 3
Brighton & HA
1983/1984
Season
Date
Home
Score
Away
Competition
2011/2012
Tue 20 Mar
Brighton & HA
2 - 0
Derby County
Championship
Tue 29 Nov
Derby County
0 - 1
Brighton & HA
Championship
2008/2009
Tue 04 Nov
Brighton & HA
1 - 4
Derby County
League Cup
2005/2006
Sat 26 Nov
Brighton & HA
0 - 0
Derby County
Championship
Sat 06 Aug
Derby County
1 - 1
Brighton & HA
Championship
2004/2005
Sat 05 Feb
Brighton & HA
2 - 3
Derby County
Championship
Wed 03 Nov
Derby County
3 - 0
Brighton & HA
Championship
2002/2003
Sat 14 Dec
Derby County
1 - 0
Brighton & HA
League Division One
Sat 16 Nov
Brighton & HA
1 - 0
Derby County
League Division One
1991/1992
Wed 15 Apr
Brighton & HA
1 - 2
Derby County
Second Division
Sat 21 Sep
Derby County
3 - 1
Brighton & HA
Second Division
1986/1987
Sat 07 Mar
Brighton & HA
0 - 1
Derby County
Second Division
Sat 25 Oct
Derby County
4 - 1
Brighton & HA
Second Division
1983/1984
Sat 17 Mar
Derby County
0 - 3
Brighton & HA
Second Division
Tue 06 Sep
Brighton & HA
1 - 0
Derby County
Second Division
1979/1980
Sat 12 Apr
Derby County
3 - 0
Brighton & HA
First Division
Sat 01 Dec
Brighton & HA
2 - 0
Derby County
First Division
1976/1977
Mon 08 Nov
Derby County
2 - 1
Brighton & HA
League Cup
Tue 26 Oct
Brighton & HA
1 - 1
Derby County
League Cup
1961/1962
Sat 28 Apr
Derby County
2 - 0
Brighton & HA
Second Division
Sat 09 Dec
Brighton & HA
1 - 2
Derby County
Second Division
1960/1961
Sat 07 Jan
Brighton & HA
3 - 1
Derby County
F.A. Cup
Sat 17 Dec
Brighton & HA
3 - 2
Derby County
Second Division
Sat 20 Aug
Derby County
4 - 1
Brighton & HA
Second Division
1959/1960
Sat 16 Apr
Derby County
0 - 1
Brighton & HA
Second Division
Sat 12 Dec
Brighton & HA
2 - 0
Derby County
Second Division
1958/1959
Wed 22 Apr
Brighton & HA
3 - 1
Derby County
Second Division
Sat 13 Dec
Derby County
1 - 3
Brighton & HA
Second Division
1945/1946
Wed 13 Feb
Derby County
6 - 0
Brighton & HA
F.A. Cup
Derby County won 10-1 on aggregate
Sat 09 Feb
Brighton & HA
1 - 4
Derby County
F.A. Cup