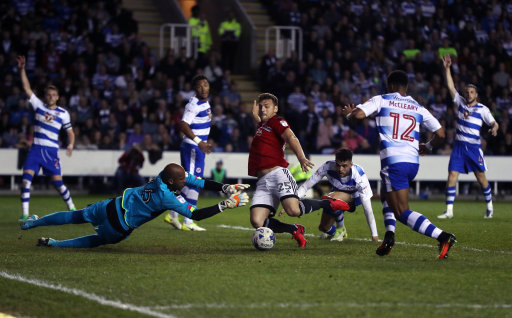 It was heart break for Fulham last night after failing to secure a place in this season's Championship play-off final but good news for the Rams, as striker Chris Martin returns from his loan spell with the cottagers.
Martin was a substitute for last evenings game, which saw Reading win 1-0 and progress to the £170m play-off final at Wembley Stadium. Chris did manage a few minutes toward th end of the game for Fulham and was very much part of the action (as seen in photograph) but the night belonged to Reading.
It is not clear if there is an option to buy for Fulham but with Martin refusing to play at one stage in his loan spell and clearly wanting to rejoin the Rams. This followed the dismissal of Nnigel Pearson, who had sanctioned the loan to Fulham dispite Chairman, Mel Morris's opionions on the move.
It is also far from clear if Martin will feature in current manager Gary Rowett's plans for next season but he has promised to give everyone in the squad a chance to impress him and claim a place in the squad for next season.
Fans have reacted well to the news of Martin's imminent return, many tweeting and messaging on social media a hearty "Welcome home".