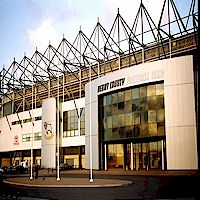 new striker at Pride Park
Derby County have confirmed that they have signed 18-year-old Peruvian Striker Gianfranco Tome.
Tome has been playing and training with the Rams for the past two weeks and has impressed in this time. George Burley and the Derby board have signed Tome on a two-year deal.
Although Gianfranco has been signed as a striker but he can play as a midfielder if need be.
Derby see the youngster as a player who will improve during his stay with the Rams. There has been some concern raised as Tome did spend a short spell with second division side Huddersfield last season, playing three times for the club but was later released. It is assumed that Mr Burley has seen some potential in the young Peruvian and he will improve quickly at the Rams new £5million training centre.