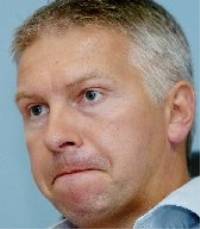 Adam Pearson feared to have resigned as Rams Chairman of Football
There have been several rumours that Adam Pearson has resigned his position as Chairman of Football at the Club.
No definative news has so far come from the club concerning the reason for this sudden and surprise event.
Further news will follow as we get it on Derby County Mad...
Following news.....
It has now been confirmed that Adam Pearson has left the club by mutual consent to follow up his other projects. No further new has been given and the Club have stated that Tom Glick will take over the role that Pearson had as part of his duties. This involves liasing between the Academy and Pride Park.
With little knowledge of actual football workings many are now asking if the jb will be a permanent position in a further bid to save money on the wage bill, something the American owners are keen to do and have achieved good savings with sale of high wage earners on the playing staff over the last year.
Fans are now left wondering if the club now have the ability in key areas to conduct the football side of the Derby County operations. This involves negotiating loans and player transfers, something that the Rams will hopefully be heavily involved in during January.
News of any possible replacements have not been made public at presnt and will be reported on Derby County Mad when, or if, available...