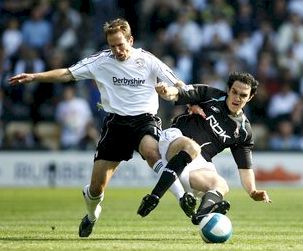 Eddie Lewis proud to be part of the USA National team again
Derby County have been instrumental in returning Eddie Lewis to the International scene. The 33 year-old had been overlooked by the USA National team since the World Cup Finals in 2006.
Lewis played in the 2-1 defeat by Ghana but has not featured in the USA squad since.
Although Lewis was player of the year in his final year at Leeds United, playing in the Championship and being relegated to League one (effectively the third division) did not help his cause to continue in International football.
Lewis was brought into the Rams Premiership side to give width on the left and Billy Davies seems pleased with his efforts so far. It is hoped that Eddie and fellow American Benny Feilhaber can play a part in today's game against Reading, enjoy the International friendly against Switzerland in Basel and return fit and well to continue the Rams fight to stay in the Premiership.