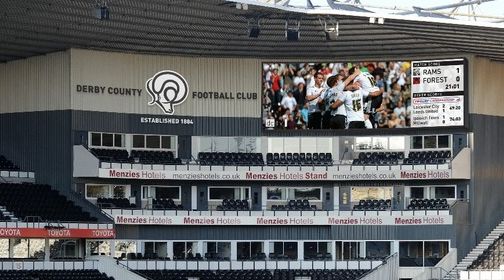 Derby County are set to move into the 21st Century by installing one of the largest video screens in the country. The new screen is to be in place by the start of next season and will replace the old scoreboard in the North West corner of the stadium.
The screen will be 77 square meters and will be used to show videos before during and after each home game. The new technology will enable the Rams to show replays and news from around other grounds and will enable Derby County to make money through advertising. The screen will be one part of the upgrade and will be joined by digital LED advertising boards, again growing the amount of money the club is able to generate.
The two parts of the upgrade will cost near £1m and is expected to pay or itself within a season and will continue to bring in much needed revenue for many years to come, allowing team strengthening and development.
The scheme is also aimed to enhance the 'match day experience' of all supporters coming into Pride Park from the start of next season...