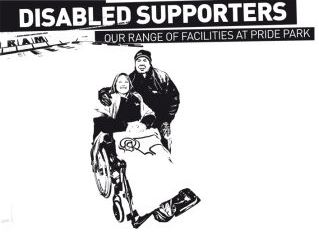 Disabled fans of a certain age are facing a massive price rise in the cost of their season tickets for the 2013-14 season and the able bodied supporters also face sizable price rises in a years time.
Derby County are to move into line with most of the other league clubs according to a letter sent out to all season ticket holders recently, stating. "The club will changing its policy on Disabled Season Tickets to bring us in line with other Championship clubs". From the 2013-14 season Disabled customers will pay their relative age band for their season ticket and receive a carer ticket free of charge.
All disabled seating will be re-catagorised to 'D'. The current price of a catagory D seat for an adult is £300, this sees a rise of around £100 for each adult disabled season ticket holder from this seasons renewal price. Disabled supporters do benefit from a free carer season ticket but in these auster times is the rise justified, or just another way of bringing more money into the club?
Whilst the £300 ticket is still relatively cheap disabled and able bodied season ticket holders could see further rises. Derby County Mad took the opportunity to talk to representatives of the club last week and it was revealed that further rises to the price of season tickets have been discussed within the club and an additional rise of up to £70 could see the disabled and able bodies catagory 'D' season ticket rise to £370, a huge rise of around 90% for the disabled and 20% for the able bodied.
Disabled supporters over 60 years of age on the 5th September 2013 will face a smaller rise, as will Young adults (18-21 years of age) but still a significant rise on this season's prices.
Disabled season ticket holders have been encouraged to contact the Disabled liaison at the club Keith Marson, Or Edward Liddiard , Ticket Office Manager, on 0871 472 1884 or by Email at ticket.office@dcfc.co.uk if they want to discuss the disabled policy...
If you would care to comment on this subject please feel free to contact us on Derby-county-mad@fsmail.net