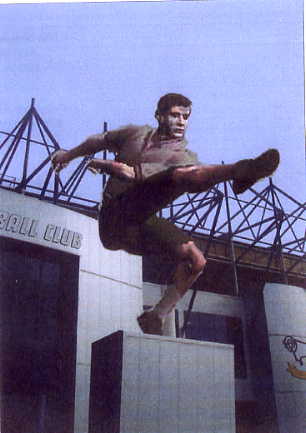 Artist impression of the proposed Steve Bloomer Statue outside Pride Park and idea from the fans
History at Pride Park is relatively new, given that the Stadium has only been in operation some 10 years but the history and heritage of Derby County football club is over 123 years old.
Why then is relatively nothing been done to honour the proud history of our club? "It is", I hear several people cry but will a stone and a plaque in the new Rams Plaza be enough to honour Brian Clough and arguably the Rams greatest player, Steve Bloomer? I think not.
Recently the proposed "Steve Bloomer Project", that had planned to raise money for a 1.5 life size bronze statue to Steve Bloomer , costing £100,000 has had to downsize its efforts to a more affordable bronze bust, after promises of help from the clubs former directors fell short of expectations.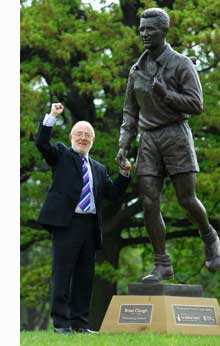 Statue of Cloughie financed and raised in Middlesbrough
The finance for this effort are nearly in place and work on the bust could be financed immediately, however the developments in and around the Pride Park Stadium have meant this fan inspired and financed idea now doesn't have anywhere to display the bust when complete!
Statues to Brian Clough have been financed and raised in Nottingham and Middlebrough but our greatest player has to content himself with a small plaque in the baseball bar and grill, a place that is now to be turned into a coffee shop known as Starbucks!
What is to happen to all of the memorabilia within the Baseball Bar and grill, will Starbucks latest shop in their extensive chain of coffee shops be bothered to show any history of Derby County Football club?
The RamsTrust have written an interesting article on the history and heritage of the Rams and again highlights the growing dislike and distrust of the new building work proposed for OUR club. Click here to read this article.
If you have any comment about the lack of care in the preservation of the proud history and heritage of Derby County Please click on the mail box...