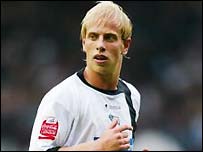 Former Rams loan star Andrew Davies joins Southampton on a 3 month loan
Talented central defender Andrew Davies is to join Southampton on loan until the January transfer window opens and he will then complete a £1m signing.
Davies had 23 games for the Rams during the 2005-06 season, scoring 3 goals and strengthening the shaky Rams defence before returning to Middlesbrough and taking up his duties to good effect in the Premiership. The Rams would have bought Davies but finances were not available at the time.
The Under 21 International now links up with Rams former boss George Burley and former team mates Inigo Idiakez, Grzegorz Raziak, and former Rams Stern John and Christian Dailly...