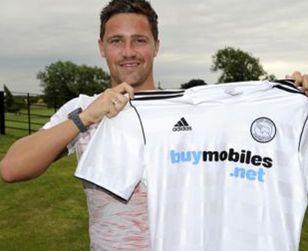 After recently going into administration Portsmouth have taken out of favour striker Chris Maguire on a 28 day loan.
Maguire has been seen as fifth choice striker behind Steve Davies, Theo Robinson, Nathan Tyson and Callam Ball and has thought to have had difference of opinions with Rams manager Nigel Clough. Clough however hasn't ruled out a future at Derby for his summer signing.
With Portsmouth have been deducted 10 points recently, a punishment for going ino administration there are worries about the club even being able to complete the current season. It has come as a bit of a shock to Rams fans to hear of the loan spell for Maguire but most wish him well with his loan spell...