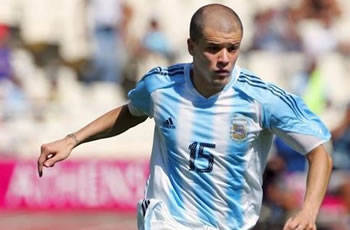 Andres D'Alessandro
Olympic football gold medal winner of 2004, Andres D'Alessandro is speculated to be interesting several Premier League clubs, including the Rams.
The 26 year old Argentinean International is currently with Zaragoza but is reported to have had rows with members of the team and management.
Andres has played before in the Premiership whilst on loan for the second half of the 2005-06 season . Portsmouth wanted to keep the Youngster but the lure of the warm Spanish sun saw him sign a season long loan with Real Zaragoza. The loan deal was then made permanent at the start of this season and D'Alessandro signed until 2011.
Current form is not good for the attacking midfielder having only scored 2 goals in 34 games for the Spanish side. However he may be the midfield spark that could feed Kenny Miller and Rob Earnshaw.
Nothing however will happen until the January transfer window opens and even then Portsmouth are favourites to sign the Argentinean again, should things not work out at Zaragoza....