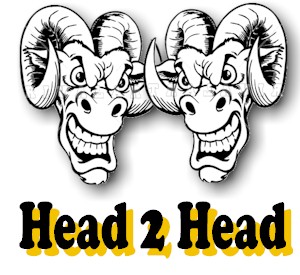 Latest in our series of looks at the Head to Head clashes of Derby County and Fulham over the years.
There has been a long history of games between Derby and Fulham, going back over one hundred years. One hundred and seven to be precise, the first game taking place on the seventh of September 1907. The game ended in a 1-0 win for the Cottagers.
Only fifty games have been played between the two sides in the intervening one hundred and seven years. The Rams just edge it on wins, winning 17 matches to Fulham's 16 with sixteen games being draws.
Fulham have only ever beaten Derby County three times on their home ground, so much bodes well for Saturday's game, with Fulham yet to record a point in three attempts this season..
The full history of Rams V Fulham matches below:
At Derby County (24)
At Fulham (26)
Results
Total
%
Results
Total
%
Derby County
13
54.17
Fulham
13
50.00
Fulham
3
12.50
Derby County
4
15.38
Draws
8
33.33
Draws
9
34.62
Goals
Total
Av.pg
Goals
Total
Av.pg
Derby County
55
2.29
Fulham
50
1.92
Fulham
30
1.25
Derby County
30
1.15
On Neutral Ground (0)
Overall (50 matches)
Results
Total
%
Results
Total
%
Derby County
0
0.00
Derby County
17
34.00
Fulham
0
0.00
Fulham
16
32.00
Draws
0
0.00
Draws
17
34.00
Goals
Total
Av.pg
Goals
Total
Av.pg
Derby County
0
0.00
Derby County
85
1.70
Fulham
0
0.00
Fulham
80
1.60
Records
Highest Aggregate
8
Fulham
3 - 5
Derby County
1950/1951
Highest Derby County score:
6
Derby County
6 - 1
Fulham
1911/1912
Highest Fulham score:
5
Fulham
5 - 2
Derby County
2001/2002
Season
Date
Home
Score
Away
Competition
2007/2008
Sat 29 Mar
Derby County
2 - 2
Fulham
Premier League
Sat 20 Oct
Fulham
0 - 0
Derby County
Premier League
2004/2005
Sat 12 Feb
Fulham
4 - 2
Derby County
F.A. Cup
after extra time, 90 minutes 2-2
Sat 29 Jan
Derby County
1 - 1
Fulham
F.A. Cup
2001/2002
Wed 02 Jan
Derby County
0 - 1
Fulham
Premiership
Wed 10 Oct
Fulham
5 - 2
Derby County
League Cup
Sat 25 Aug
Fulham
0 - 0
Derby County
Premiership
2000/2001
Wed 29 Nov
Fulham
3 - 2
Derby County
League Cup
1983/1984
Sat 21 Apr
Derby County
1 - 0
Fulham
Second Division
Mon 26 Dec
Fulham
2 - 2
Derby County
Second Division
1982/1983
Sat 14 May
Derby County
1 - 0
Fulham
Second Division
Sat 11 Dec
Fulham
2 - 1
Derby County
Second Division
1968/1969
Wed 02 Apr
Fulham
0 - 1
Derby County
Second Division
Wed 18 Sep
Derby County
1 - 0
Fulham
Second Division
1958/1959
Sat 07 Feb
Derby County
2 - 0
Fulham
Second Division
Sat 20 Sep
Fulham
4 - 2
Derby County
Second Division
1957/1958
Sat 21 Dec
Derby County
3 - 3
Fulham
Second Division
Sat 24 Aug
Fulham
2 - 0
Derby County
Second Division
1954/1955
Wed 01 Sep
Fulham
2 - 0
Derby County
Second Division
Wed 25 Aug
Derby County
3 - 4
Fulham
Second Division
1953/1954
Sat 27 Feb
Derby County
3 - 3
Fulham
Second Division
Sat 10 Oct
Fulham
5 - 2
Derby County
Second Division
1951/1952
Thu 01 May
Fulham
3 - 0
Derby County
First Division
Sat 10 Nov
Derby County
5 - 0
Fulham
First Division
1950/1951
Sat 20 Jan
Fulham
3 - 5
Derby County
First Division
Sat 16 Sep
Derby County
3 - 2
Fulham
First Division
1949/1950
Sat 18 Mar
Derby County
2 - 1
Fulham
First Division
Sat 26 Nov
Fulham
0 - 0
Derby County
First Division
1925/1926
Sat 27 Mar
Derby County
3 - 1
Fulham
Second Division
Sat 14 Nov
Fulham
1 - 1
Derby County
Second Division
1924/1925
Sat 17 Jan
Fulham
0 - 2
Derby County
Second Division
Sat 13 Sep
Derby County
5 - 1
Fulham
Second Division
1923/1924
Sat 24 Nov
Derby County
3 - 3
Fulham
Second Division
Sat 17 Nov
Fulham
3 - 2
Derby County
Second Division
1922/1923
Sat 27 Jan
Fulham
3 - 1
Derby County
Second Division
Sat 20 Jan
Derby County
2 - 0
Fulham
Second Division
1921/1922
Sat 14 Jan
Fulham
2 - 2
Derby County
Second Division
Sat 31 Dec
Derby County
1 - 1
Fulham
Second Division
1914/1915
Sat 23 Jan
Derby County
1 - 1
Fulham
Second Division
Sat 19 Sep
Fulham
2 - 0
Derby County
Second Division
1911/1912
Mon 15 Apr
Fulham
0 - 0
Derby County
Second Division
Sat 04 Nov
Derby County
6 - 1
Fulham
Second Division
1910/1911
Wed 15 Mar
Derby County
2 - 2
Fulham
Second Division
Sat 05 Nov
Fulham
3 - 1
Derby County
Second Division
1909/1910
Fri 25 Mar
Fulham
0 - 0
Derby County
Second Division
Sat 01 Jan
Derby County
3 - 1
Fulham
Second Division
1908/1909
Sat 24 Apr
Derby County
2 - 1
Fulham
Second Division
Sat 19 Dec
Fulham
1 - 2
Derby County
Second Division
1907/1908
Sat 04 Jan
Fulham
0 - 0
Derby County
Second Division
Sat 07 Sep
Derby County
0 - 1
Fulham
Second Division