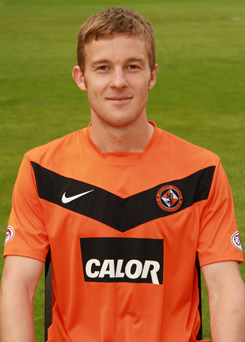 Derby County are again searching the free transfer market to improve the squad for the 2012-13 season. Manager, Nigel Clough has been on a scouting mission this week and took in the Scottish Premier League game at Tannadice between Dundee United and Inverness Caledonian Thistle.
Clough was allegedly at the game to watch Left Back Paul Dixon. The 25 year old Scottish International will be a free agent in the summer and Clough is said to be looking to get back up for Gareth Roberts, who's contract also ends in the summer, and sees Dixon as the perfect player.
Dixon was in good form for the Monday night game against Inverness Caledonian Thistle and a clean sheet in the 3-0 win must have impressed Clough.
At 5 ft 9 inches Dixon would continue the recent trend of bringing in the smaller players, but is highly respected within the Scottish game and Dundee United's current fourth position in the SPL is a tribute to the work Dixon and his fellow defensive players have put in this season.
Derby County have not said if any negotiations have taken place with Dundee United yet regarding the players future...