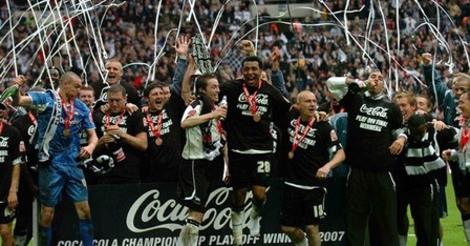 Just been taking a look through some old Derby County books in my collection and noticed some striking similarities between what is happening this season and what happened in our last promotion season. Yes, we have again finished third and yet again we play Leeds United in the final game, Could this be an omen?
If you take a look at the table from 2006-07 season and how it stands today before the final game of the season, it does seem to have an air of Deja-vu about it. The Rams won fourteen games at the Ipro Stadium this season, which is one more than the promotion season and if they win on Sunday they will equal their away victories of twelve in 2006-07 season.
However similarities of the two season's ends when you take a look at goals scored. Derby are now a more potent threat in front of goal with players able to score from many areas of the pitch, rather than relying on just one or two strikers in the squad. Eighty three goals this season is impressive and twenty one more than in 2006-07 but funnily enough gives us exactly the same points tally. The goal difference however is exactly double the promotion season, Derby being on plus thirty two now and finishing the season in 2006-07 on sixteen.
So all bodes well for the play-off's but who will we play in the semi-final games? Sixth place is a fight between three sides this weekend, Wigan, Brighton and Hove Albion and Blackburn Rovers fight it out. A slip from Brighton at Forest and a win from Blackburn against Wigan Could see Rovers take sixth place following an eleven match unbeaten run, in what looked an unlikely shot at a play-off place just weeks ago.
I guess the thoughts of Blackburn in a play-off semi-final would strike fear into many Rams fan of an age to remember the infamous 1991-92 season play-off's. The Rams were 2-0 up at Ewood Park within 15 minutes of the start of the first leg, but Blackburn stormed back to win 4-2, the Rams being unable to claw back the home leg, despite winning 2-1. We played that day in the multi coloured and much loved 'batwing' third strip, and despite the bad memories of the game, still remains my favourite Derby County shirt.
Getting back to matters in hand, a deluge of supporters swamped the ticket office after tickets went on sale for the play-off semi-finals, crashing on-line sales with their demand for tickets, showing again the fanatical support Derby County consistently generates. Fingers are crossed for further demand for Wembley tickets in the very near future…. COME ON YOU RAMS...