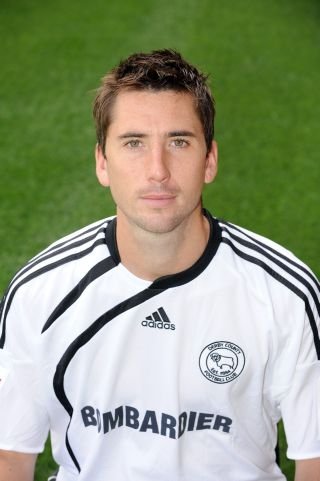 Shaun Barker may not play again for the Rams until Christmas
The Rams were plunged deeper into defensive crisis as yet another ijury has surfaced, this time to summer signing Shaun Barker.
Barker has been troubled by a thigh strain, or tear since his summer move from Blackpool. The initial injury has continued to trouble Barker and the latest break-down may indicate a tear to the thigh muscle. This would almost certainly rule him out until at least early December, or possibly even the New Year.
Rams manager, Nigel Clough has not speculated on the severity of the injury but did say "It looks like a number of weeks" when pressed on how long the injury would take to heal.
Barker has alsready undergone a scan on the injury but it was inconclusive. The clubs medical team will continue to keep an eye on Shaun and hopefully the injury may not be a full rupture, even so it is not thought Barker will feature for the Rams in the next four weeks.
Derby are now pinning all their central deensive hopes on the Dean Leacock, who is also recovering from injury but may be available for Saturday...