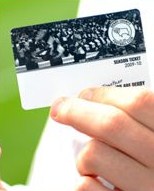 Derby County have announced that for the first time in seven years the price of a season ticket will rise by 10%.
Rams CEO, Tom Glick has however pointed out that the club intends to make the season ticket yet again "value for money". Several ways that supporters could possibly recoup some of the increase has been underline by Glick.
Children under 12 years of age will qualify for a free season ticket when a full paying adult buys their tickets. A new discount for families has also been announced, two adult tickets plus two juvenile (13-17 years of age) will be available at prices starting at £725.
Season ticket holders re-newing their seats by the end of February will be rewarded with a free 2011-12 Rams shirt and also a £50 voucher to be spent at ShopDCFC.
The Annual early bird discount also applies to re-newing of season tickets. Ticket holders have until the Sunday 15th April to renew...