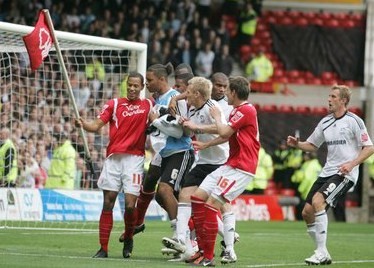 The Rams have been ined £20,000 for their part in the Nathan Tyson incident after the 3-2 defeat at the City Ground.

The Rams and Forest have both been fined following the incidents after the 3-2 defeat at the City Ground on the 29th August.

The incident, brought about by the actions of Nathan Tyson, who waved a corner flag in front of the stand containing Derby County fans has had serious consequences for both teams and Tyson himself.

The Rams have been given a £20,000 fine, £15,000 suspended and Forest have been handed a £25,000 fine with £10,000 suspended.

The fines were imposed after the FA found both clubs failed to control their players and officials during the after match incident.

Tyson has been given a £5,000 personal fine with non of the money suspended.

The far reaching effects of these sentences has only just begun as each team has to stay clear of any similar incident until the end of the 2010-2011 season. If either the team or Tyson himself fail to stay on the straight and narrow the suspended parts of the sentences will be activated and have to be paid.

Tyson also has a two match ban for his part in the events, which again will be instantly activated should he be involved in a similar incident before May 2011...