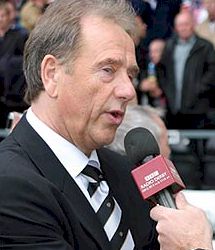 Peter Gadsby steps down as Chairman of Derby County
A shock statement from Derby County this morning reveals that Peter Gadsby has stepped down with immediate effect in favour of new Executive Chairman Adam Pearson.
The former Hull Chairman is expected to put money into the club and Peter Gadsby will remain on the Derby County Board as a director.
Pearson has been trying to find himself a Chairmanship of a major club for some time since leaving Hull City. Pearson was a major reason for the upturn in the fortunes of the Tigers and will hopefully transfer his business accument to Derby County.
As we have already mentioned in reports on Adam Pearson he is a life long Huddersfield fan but was not welcomed by his home town club when he tried to invest in their future.
In parting from his Chairmanship Peter Gadsby has said he has been surprised by the aspirations of the Derby fans. He went on to say that he hoped we would find investors into the club that could take it to the next level.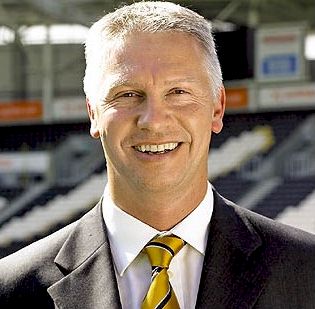 Adam Pearson Executive Chairman of DCFC

Worryingly Gadsby also said we have have an attractive young squad which would appeal to outsiders looking in, it is unclear if he meant other clubs willing to buy our young talent or investors willing to back the youngsters of quality.

Pearson now finds himself head of the off-field team dedicated to taking the Rams foward, a job that was becoming too time consuming for Peter Gadsby, who can now concentrate on his major business ventures.

Do you think Adam Pearson is good for Derby County please mail us with your reaction by clicking on the mailbox.

The full statement from Derby County can be read below...................

"Derby County Football Club announced today (Monday October 29, 2007) that Adam Pearson is joining the Board with immediate effect as Executive Chairman.

Welcoming the announcement, out-going Chairman Peter Gadsby, who remains on the Board, said: "The first point I want to make clear is that Adam joining the club does not represent a takeover of Derby County.

"We wanted to introduce someone to the Board who could take us forward in terms of the running of the club and was prepared to put in an investment of his own as a demonstration of his commitment to Derby County.

"When the current Board of local people took control 18 months ago this club was in turmoil having accumulated around £54-m of debt during the previous three or four years. The process to gain control began in earnest around two years ago - a complex process which was almost a full-time job during the negotiations.

"Once control had been achieved we laid down our three-year plan for Derby County."

Mr Gadsby said the main priorities were:

*To achieve financial security for the club and reduce significantly the debt

* To address the football side of the business and make significant improvements to on-field performances

* To regain the faith and confidence of fans and corporate partners

"Mr Gadsby went on: "As an integral part of this process, Derby County recruited a first class manager with proven abilities who, while beginning his process of building a competitive squad of players, surpassed all expectations by gaining promotion in year one of the three-year plan."

He said two things happened following promotion:

1. Although gaining promotion was achieved via a truly fantastic day at the new Wembley Stadium, Derby County was in effect a number of weeks behind other Premier League clubs in terms of planning for the 2007/08 season.

2. Promotion coincided with a significant increase in Premier League revenues and clubs already secure in the division used these future funds to invest heavily in their squads.

"Derby County therefore found itself immediately at a disadvantage to other clubs in the league," said Mr Gadsby, "and we have been playing catch-up from day one. This is a situation I believe will be repeated for many years to come for clubs promoted by the play-off route unless significant external investment is found to support promotion.

"Derby County's turnover will increase to around £50-m this season from around £15-million in our last Championship season. This turnover growth is backed by the excellent support both from our fans and corporate customers. Our average attendances this year are expected to be in the top 12 in the country, supporting our view that Derby County is indeed a big club.

"However, as Chairman, I was surprised by the aspirations and levels of expectation of some of our fans, particularly over the club's perceived lack of investment in the playing squad just five games into the current season. Other newcomers to the Premier League have demonstrated in previous seasons that it is very difficult to immediately attract the so-called big-name signings all fans want.

"While accepting that investment in the team is critical, the Board, which, do not forget, comprises local business people who live and work in the community, did not want to overstretch the club's finances and risk returning Derby County to the previous cycles of feast and famine.

"This predicament led the Board some weeks ago to consider how to take the club to the next level. It was felt the time was right to seek further external finance that would enable us to compete, taking the opportunity to maximise the advantage created by our Premier League status. We also felt we had an attractive squad of young talent that would appeal to outsiders looking in.

"The club has received a number of approaches from potential investors - some genuine, some not - but the Board felt certain approaches should be explored further, particularly as the trend for foreign investment into English football was likely to continue. To compete, we realised we needed to consider all options.

"However, these sorts of considerations and negotiations take an inordinate amount of time. Along with the additional activity brought about by promotion, I, like other football Chairmen, found myself working almost full-time at the club. I have substantial business interests of my own and I felt I was not doing either business proper service by spreading myself too thinly.

"With the proposed £20-m development of Pride Plaza, which will improve significantly the off-field outlook for the club, these time pressures were only likely to intensify.

"The Board's first priority when meeting various parties interested in investing in the club was that if any transfer of ownership was to occur, it must be to people we believed had the necessary funds and desire to take Derby County forward. Under no circumstances did we wish to return the club to the problems suffered under the previous regime, and I know the fans will trust our judgement in this.

"During this process, some of which has been in the public domain, Adam Pearson, someone I have known personally through football for many years, expressed an interest in becoming involved with the club. For a number of reasons however, it was not going to be possible for him to take over the club in its entirety.

"We felt Adam would be an ideal person to drive the club in terms of attracting the desired additional investment. He also has a first class record on the commercial side of every business he has been involved in and all the credentials and abilities to take advantage of the profile of English football today.

"He has significant top-level experience at major football clubs and, most recently, has achieved remarkable success at Hull City, guiding them to promotion to the Championship, building a new stadium and ultimately taking the club into new ownership with the ability to move to the next level. After achieving all this, Adam feels ready for a fresh challenge - and I believe it is important we now have an executive in charge of the day-to-day operation who has equity in the company.

"No-one on the Board had the time resource to commit to the Chairmanship and, for the reasons I have already stated, I felt strongly that it was time for me to take more of a back seat.

"The Board felt therefore it was appropriate to invite Adam onto the Board, an opportunity he accepted. I apologise about the secrecy we have had to maintain over recent days, but it was a necessary part of the process.

"To enable this arrangement to happen, bearing in mind this is not a takeover of the club, Adam has agreed to become Executive Chairman - a key role for the club. To facilitate this I have transferred a substantial block of my own shareholding to him, at the price I paid. I want to make it clear I have made no money from this transfer. The transfer enables Adam to become the largest shareholder and to Chair the Board. I will retain some of my shareholding and will remain an active member of this Board."

Mr Gadsby added: "Looking forward this means the club has, without major upset or turmoil, facilitated a new Chair and helped provide the foundations to seek future investment - which I am confident will happen - to bolster the playing squad and enable us to compete.

"I want to take this opportunity to thank the fans and my fellow Board members for their fantastic support during the past two years. I also want it to be known that I have enjoyed a first class relationship with Billy Davies, the manager I am convinced is the right man to retain our Premier League status.

"The success of the last 18 months could not have happened without Billy and I have enjoyed working with him and his backroom team."

Mr Pearson said: "I am obviously delighted to have taken on the mantle of Chairman of Derby County Football Club. I would like to thank Peter Gadsby for completing the share transaction so professionally and inviting me on behalf of the Board to have responsibility for continuing the fine development achieved under his tenure.

"The progress achieved by Peter and the Board over the last 18 months has been quite remarkable with the club returned to the Premier League and financial stability achieved well ahead of the initial timescales set. Perhaps with Peter now on the Board in a non Executive role he can return to enjoying his matches at Pride Park again!

"I will be responsible for finding the significant external funding that all Premier League clubs require in order to compete on the very biggest stage. Many Premier League clubs are seeking the same potential investment but I am confident that over the coming months this required investment will be found and accelerate the growth and development of the club even further. All big clubs now need significant external funding and it is my responsibility to find this so that Billy Davies can continue to invest in the playing squad.

"In addition to securing significant new funds it will be my responsibility in conjunction with the executive team already in place to substantially grow and develop all possible revenue streams into the club. In order to maximize our income Peter believed the club needed an Executive Chairman who can dedicate his entire focus to the crucial role of securing the maximum revenue growth for the club.

"Due to the enormous commitments locally of Peter and the Board it has not been possible to concentrate enough time and focus on this much needed revenue strategy. Having a major shareholder driving the business day to day will allow an extremely capable management team off the pitch to drive the club forward under my stewardship to compete favourably with the other similarly large clubs in the Premier League.

"The Board and I will continue to offer Billy Davies our full support in our quest to remain in the Premier League and we will be exploring all possible options available to ensure a successful transfer window in January. We firmly believe we have the manager and backroom team in place to continue the remarkable progress achieved on the pitch by Billy and his squad over the last 18 months.

"The search for investment will be privately managed and extremely focused on known potential markets. There will be no further public discussion or media speculation on the subject of external investment until it is secured, and in the meantime we will of course continue to focus on the existing business off the pitch and the strength of the team on it.

"The club will continue to move forward at a pace that respects the outstanding commitment that it receives from its large and loyal fan base and on behalf of the Board I would like to thank you for your outstanding and continued support of Derby County Football Club."