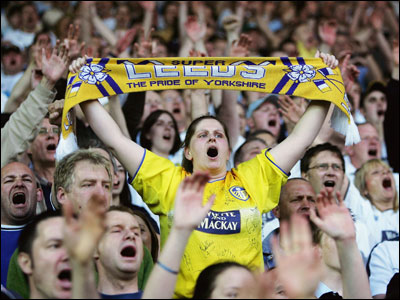 Sit down and going down. Leeds fans docked 500 seats for persistant standing
The final match of the 2006-2007 season will be short of 500 Leeds United fans after their allocation of tickets has been docked by the safety advisory group for persistent standing.
The group has checked on records from clubs around the Championship in which Leeds supporters allegedly stood in seated areas. The groups decision after looking at last seasons game at Pride Park together with the other records was to dock Leeds supporters tickets to this game.
Derby County, under league rules should have been obliged to give 2000 places for visiting Leeds fans but the ban will see just 1500 tickets available. All 1500 tickets for this game, available to Leeds fans, have now been sold