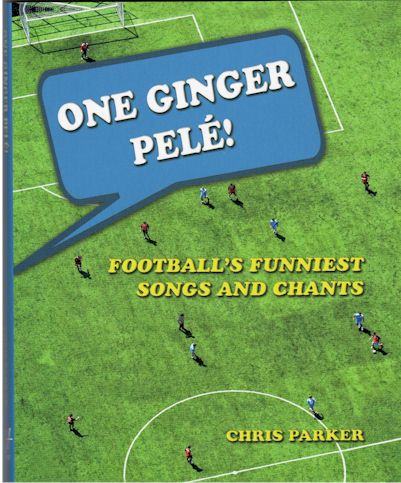 One Ginger Pele book full of songs and chants sung at matches up and down the country

Ever wondered just how many chants there are or have been in football over the years? Well we can't give you the answer but we can give you news of the latest football book by author Chris Parker. The book is called "One Ginger Pele" and in it are hundreds of the chants and explanations of those chants.

Some of the chants are bizarre to say the least, as with the books title, many are very funny, some just rude, This is certainly not the kind of book you would buy or lend to your Granny. Some of the words would shock and anyone wanting to buy or read this book should be aware of this but it is a superb little hard backed book to while away a few hours.

However the chants in the book have been sourced from supporters up and down the country by Chris and are authentic chants heard around the grounds and stadiums of Britain.

The New Holland publishers of the book have given Derby County Mad special permission to use some of the chants seen in the book, so here goes. To the tune of "she be coming round the mountain" Oldham fans taunted our friends Nott's Forest to a chorus of

If Robin Hood were real he's be dead,
if Robin Hood were real he's be dead,
if Robin Hood were real,
Robin Hood were real,
Robin hood were real he'd be dead.

Or we have a song sang by Liverpool fans when they played Barcelona with one Ronaldinho in their squad to the tune of the Conga

Cilla wants her teeth back,
Cilla wants her teeth back
La la la la, la la la la!

There are loads more to entertain the football fan of an evening in the book. At just £4.99 it is a real bargain and I think would be appreciated by many footy fans as a stocking filler this Christmas. As usual with any footy book we review we have been kindly offered three of these books for a competition to be held next week.

If you can't wait that long you can buy a copy of "One Ginger Pele" at any good book shop or on-line bookseller or by calling 01476 541080

So to end with here is an absolute classic, although a little risqué number from Man city fans as they sing sweetly to Sven Goran Eriksson, to the tune of 'Lord of the Dance'

Sven, Sven wherever you may be
you are the boss of Man City.
You can shag my wife on our settee
if we win the cup at Wembley!..