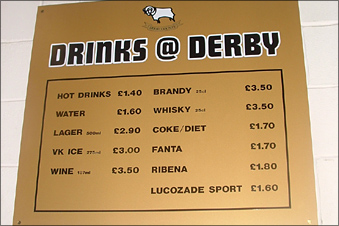 Drinks @ Derby but who pays the price?
Faster drinks, or just an excuse to push up the price of drinks at Pride Park?
That is the question Derby County Mad asks its readers.
As the new signage is put in place at Pride Park we would like your views on the apparent large rise in prices for some beverages.
As you can see from the photograph, Coke and diet Coke has had a hefty rise of some 70p. This drink was previously available from the vending machines at £1. The same price rise is also imposed for Fanta. Lucozade Sport is now on 'offer' at £1.60
Brandy, whisky and newly available wine also have a slight rise and now a shot will cost you £3.50. Lager is now not served by the pint but in 500ml bottles but still retains the former price of a pint at £2.90
Plain old water has been added to the new "Drinks @Derby" outlets but is £1.60 a price you are prepared to pay?
These new prices and the fact that the Drinks @ Derby bars will be drinks only outlets are an attempts to speed up the time spent waiting in queues at half -time. Are they getting waiting times down and do you think the price rises are fair?
Derby County Mad would like your comments and experiences at the new Drinks @Derby outlets this Saturday. Just click here to give us your view.