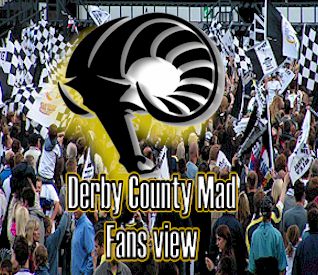 In the end the 4th round F.A. Cup tie between Championship Derby
County and Premiership Stoke City turned out to be something of an
anticlimax.

Stoke City started brightly and took the lead after just 4 minutes
when Cameron Jerome struck from a corner. Jerome was clearly offside
but the officials either ignored or missed that important fact.
Offside or not, Derby County should have defended the corner better.
Robert Huth sealed the victory with an 81st minute goal, again from a
corner.

Derby County can take some credit from this game, particularly a
purple patch in the closing 20 minutes of the first half when the Rams
passed the ball around magnificently and penned the Premier League
side in their own half.

But for all the pretty passing, the Rams failed to force Potters'
goalkeeper Asmir Begovic into making a single save during the entire
90 minutes.

The injury to Theo Robinson meant Derby County started with a lone
striker up front in teenager Callum Ball. Fair enough, maybe, but I'd
always start two strikers at home.

Disappointingly for me though was the manager's lack of substitutions
as the game fizzled away. Trailing at halftime, needing a goal to stay
in the cup competition, and with attacking options on the bench, Nigel
Clough stuck with the same starting-11 that had failed to test the
goalkeeper all game.

Striker Nathan Tyson finally entered the fray on 78 minutes but
Clough's final two substitutions saw central defenders Jake Buxton and
Tom Naylor introduced.

Rams Star Man – difficult to pick any one player out because Stoke
City were the better team and from the moment they took the lead the
Potters cruised the rest of the game in 2nd or 3rd gear. For me, James
Bailey, Craig Bryson, Jamie Ward and Shaun Barker didn't look out of
place alongside the six foot plus Premier League players of Stoke
City. If I had to single one Rams player out, I'd go for Shaun Barker
for the way he out jumped 6'6" Peter Crouch all game and kept the
former England striker quiet.

Referee Watch – I expected better from Premier League referee Mark
Clattenburg and his team of top flight officials. The first goal was
offside, plain and simple, and the assistant referee should have seen
that. Jamie Ward was clearly fouled when breaking clear and heading
towards the penalty area but not according to Mr. Clattenburg. The
referee also took an inordinate amount of time over awarding a Stoke
City corner and clearly didn't know which way to give it. All in all,
I wish one of the excellent Championship referees we've had of late
had been in charge for this game...
Read more of Stuart's work @ http://stuarthughes.webs.com/