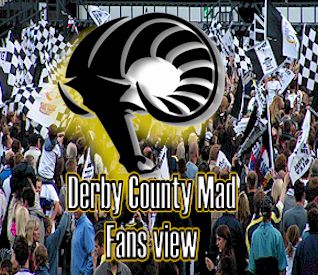 Stuart reviews the away game against Leicester City

Coca-Cola Championship action returns this weekend after the international break.

Derby County resume with two away games in quick succession before returning to Pride Park Stadium a week on Saturday in the televised game against Queens Park Rangers.



Our home form - four wins out of six - hasn't been too bad, but our away form - only one point so far from the goalless draw against Blackpool - is pretty dire. So the challenge to the Rams is to improve the dreadful away form in a tough game against Leicester City at the Walkers Stadium on Saturday and then, arguably, an even tougher game against Middlesbrough at the Riverside. In this ultra-competitive league though, you always have a chance, and Derby County will take encouragement from the fact that both Leicester City (to Preston North End) and Middlesbrough (to West Bromwich Albion and Leicester City) have already lost at home this season.



A spirited, committed, hard working performance is going to be required in both these games, but that's exactly what a make-shift team did against Sheffield Wednesday last time out for a fantastic 3-0 victory at Pride Park. More of the same please, but away from home this time.



Leicester City player Richie Wellens has been very vocal in the media saying that "Derby County are a team we should be beating if we want to achieve our ambitions this season." Thank you very much, all Nigel Clough needs to do is cut those comments out of the newspaper, pin them up in the changing rooms, and his motivational team talk should be reasonably straight forward after that.



The game on Saturday should see two former Rams take the field against us wearing the Walkers crisps cheese and onion blue of Leicester City. Both Steve Howard and Matt Oakley were popular Rams players, both playing pivotal roles in the 2006/07 season that saw us promoted to the Premier League under Billy Davies. Howard, however, is not guaranteed a place in the starting line-up as he has been dropped by manager Nigel Pearson for the last two games.



Just the mention of Howard's name is bound to start the debate again amongst some Rams fans: Who is better? Steve Howard or Rob Hulse? For me though, it's a moot debate, Rob Hulse is a Ram, Steve Howard is a Fox, and that's the end of it.


What sort of reception will Robbie Savage receive from the Leicester City fans?

I expect both Howard and Oakley will receive a generous reception from Derby County fans, not just on Saturday, but also on the 27th of March next year when they return to Pride Park.

I'm more interested in seeing what sort of reception Robbie Savage receives from the Leicester City fans. I can remember many a Derby County versus Leicester City game where Savage figured prominently for the Foxes, winding up the Rams fans with his antics, but he has won me, and the majority of Rams fans over now with his work rate, commitment, passion and desire to play for Derby County and wear the Rams' shirt with pride. I'm sure Savage wore the cheese and onion Foxes shirt with just as much pride during his five years at Leicester City. I hope Savage receives a reception from the Leicester fans that is just as generous as the reception Howard and Oakley will, I'm sure, receive from Rams fans.



By my calculations Derby County had 15 injuries going into the international break - three sore feet, two hamstrings, two thighs, two groins, two knees, one hernia, one achilles, one hip, and one ankle. In all honesty, I can't remember an injury list like it, except maybe the 1990/91 season when we were relegated from the old First Division and young kids like Brian McCord and Craig Ramage were thrown in at the deep end before they were ready, but I don't think even that injury list was this bad.



Nigel Clough has asked for a thorough top to bottom review of the injury process at Derby County but there is nothing obvious, the injuries aren't consistent, the majority are picked up in matches rather than training, and it may just be a case of bad luck.



At least the international break has allowed time for injuries to heal and it was good to see Jake Buxton, Paul Connolly and Mitch Hanson play 90 minutes for the reserves and for Kris Commons to get just over an hour's playing time. Dean Leacock, although he didn't play against Port Vale reserves, is back in training and in contention for the squad again. Unfortunately though, Ben Pringle picked up a knee injury and joins the queue for the Moor Farm treatment room.



Despite the welcome return of these players, I expect there will be only two changes from the team that started against Sheffield Wednesday. Firstly, who replaces the injured Shaun Barker? For me, the manager can go one of two ways. Most likely he will bring in Buxton as a straight swap (I don't see Leacock being risked on Saturday with three games coming up in a week) to play alongside Jay McEveley giving us two predominantly left-footed centre-backs. Or, he may opt to move Fredrik Stoor to centre-back, where he has played before, and recall Connolly at right-back.



The second consideration is who replaces Paul Dickov as the loanee cannot play against his parent club? In an ideal world this would almost certainly be Commons, but he was clearly playing within himself for the reserves and will probably start on the bench. Lee Hendrie has impressed in his appearances so far and I expect him to get the nod from the start, meaning a return to 4-5-1 with Commons poised to come off the bench for the last half an hour or so.



I'm not expecting anything other than an attritional approach from Derby County against Leicester City and Middlesbrough, and that's why I think 4-5-1 will be the way Derby County will go. And, with our terrible away form and long injury list, who can fault Nigel Clough in that approach. Certainly not me, and a return of two ground-out draws, or one smash-and-grab win, from these two away games would suit me just fine going into the home game with QPR.