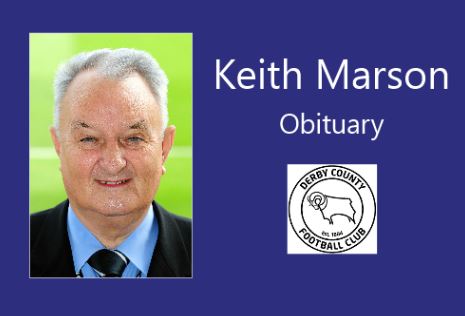 It is with great sadness that we learned of the passing of Keith Marson. Having had first hand experience as a disabled supporter, I can truely say he was a natural in the role and I had many happy chats at the ground with him and thank him for all his superb work with the disabled of Derby County Football club.
Keith joined Derby County in 1996, after retiring from Derbyshire Constabulary's road policing unit and became the club's DLO in 2004.
Keith quickly established a strong relationship with the club's disabled fans and worked tirelessly to improve access and to ensure an inclusive matchday experience for all disabled fans at Derby County's stadium.
At the 2011 CAFE International Conference, Keith and then CEO, Tom Glick spoke about improving stadium access and Tom praised Keith for his determination and commitment that saw many more disabled people attending matches at the club. Innovative changes included golf buggies and rest areas around the ground to assist ambulant disabled fans in reaching their seats. And the addition of elevated accessible seating areas in both the home and away sections, installed using low cost aluminium super-risers and wheelchair user stair lifts, in existing seating areas.
Keith proved the importance of having a dedicated DLO (Disability Access Officer) at each club to champion access and inclusion. He was respected by both his peers and the club's board and persuaded them to invest in this topic as part of the club's yearly on-going schedule of works.
Keith would seek out smart and cost-effective changes and would then persuade the club to implement these improvements to their infrastructure and services. This made a massive difference and enabled the club to grow its disabled fans base significantly and to increase its season ticket sales and revenue overall. Keith was a pioneer in this respect.
Level Playing Field recognised this pioneering work in 2013 in awarding Keith the LPF Outstanding Contribution Award. Keith's efforts were further rewarded with Derby County becoming the first club to receive the LPF of Excellence Award. More information about these awards can be found at http://www.levelplayingfield.org.uk/news/lpf-award-keith-marson.
Level Playing Field Chair Joyce Cook said, "This is terribly sad news and our thoughts and prayers are with Beryl and the family. We have lost a true friend and champion and Keith will be sadly missed by us all. He has left a remarkable legacy that sees many more disabled football fans enjoying matchdays at Derby County and with other stadiums since adopting Keith's ideas. God bless you Keith, and thank you for all of your efforts over the years – we will miss you."