It gets no better may have been words that any Rams fan watching today's friendly between Shrewsbury and the Rams may have uttered. The final score being an embarrassing 5-0 to the Conference side.
Derby tried to hide their embarrassment by stating that they lost two key players. Warren Barton limping off after 19 minutes with a hamstring problem, Zavagno replaced him.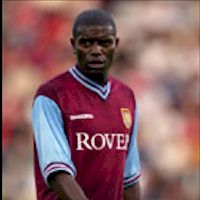 Ian Taylor hit by ankle injury in today's friendly
Ian Taylor was the second casualty having what seemed to be a twisted ankle just before the half-time break. Doyle took his place.
There still seems to be a lot of work required to get the Rams in any sort of shape for the coming season and new manager George Burley is hopeful of a further two signings next week.
Injured Lee Morris should also be fit enough to resume training next week and his presence will be welcomed by Burley who sees the ex Sheffield United player as one of his main goal scorers for the coming season.