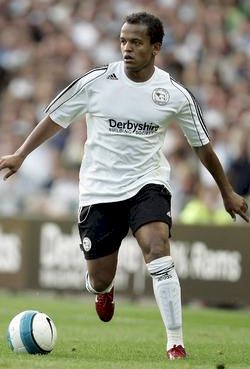 Do you know this man???????
The Rams are hardly brimming over with cash but recent events make one wonder just why the Rams paid a record £3.5m for a striker they refuse to play.
Rob Earnshaw joined the club at the start of the season and has completed just one full game for the Rams, in the 4-0 drubbing by Spurs. In total Earnshaw has played just 211 minutes for the Rams. That is more than £16,500 per minute played.
The Welsh International hasn't featured in the last four Derby County first team games at total of 360 minutes of bench warming.
Maybe there is a fitness, attitude or tactical problem that makes Billy Davies feel he can't play his record signing. Rumours of a dressing room bust-up between Earnshaw and the Rams manager are gaining momentum but if that were true surely Earnshaw would be loaned out to lessen the rapidly rising wage bill?
Whatever the reason for Ernie's absence from the forward line we are sure you would like to comment on the situation. Email us your thoughts by clicking on the post-box...