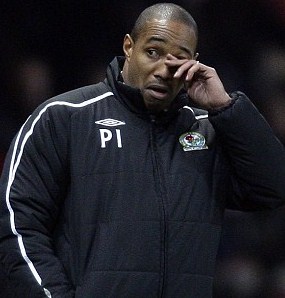 Paul Ince, is he going to cry in a minute over Ben Davies transfer offer?

Paul Ince, manager of Notts County, just can't get out of that old "moan at anything in order to try and get your own way" Manchester United mentality after launching a whinging attack on Derby County and their desire to land midfielder Ben Davies.

Ince claims the offer for 29 year old Davies is derisory, yet the quarter of a million pounds offered by the Rams seems to be quite fair for a 29 year-old player from the third tier of English football. However, Notts Chairman Ray Trew believes that Davies should be valued at double the Rams previous offer.

Ince claims that Derby "have no respect" following their attempts to land Davies but the Rams are just doing business, or thought they were. Derby are now very financially aware in the present economic climate, the football World should be no different. The days of over inflated prices for players who show any sort of ability are long gone. Ince may need to get back into the real World and see the quarter of a million offer as good business for a player and team in his division and use the money offered to improve his squad of players.

Ince however sees Davies as a player who he can build a team around and thinks Davies will achieve his ambition of playing at a higher level with Notts County, rather than a switch to Pride Park.

The saga will presumably rumble on for the remainder of the current transfer window, with Ince protesting about wrong doings, as he did as a player (persistently) but in the long run is Davies worth half a million quid, would he add to the quality Derby have in midfield already and more importantly are the Rams board prepared to look at paying £500,000 for Davies?

Watch this space for the next 13 days to find out...!