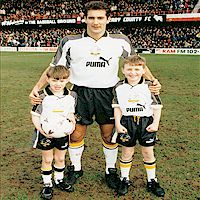 "Igor, Igor, Igor Igor", will be the chant tonight as Igor Stimac returns to Derby as the guest of the club.
The Charismatic defender will take his place in the Directors box tomorrow evening to watch the Rams take on Middlesbrough.
Igor now 46 years-old has recently left his job as National team manager of Croatia is to stay for a few days and will take in tonight's game and be at the match against Blackpool at the weekend.
Fans will get the chance to meet the legend at a signing and photographic session at the Digonex ticket office on Friday afternoon between 3.30 and 4.30pm...