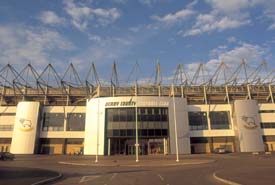 Pride Park .........sadly lacking in pride
Derby County are in disarray this morning after one of the worst performances of the season, or any season come to that!
The performance was nothing short of shocking and the American investors due to be unveiled tomorrow must wonder what they are putting their money into.
Not only were the Rams thoroughly out-played by a side staring relegation from the Championship in the face but the manner of the defeat left supporters in utter despair at a club that is said to be trying to make itself a world brand name. The only thing this side is making Derby County is a laughing stock!
Already known as the worst team ever in the Premiership ever, the side now made a mockery of the Rams position as a Premiership club, falling to a club that has only won two away matches in the Championship this season, those being 1-0 win against Southampton and a 3-2 win at Burnley.
The new owners of Derby County want to market Derby County and make them a world brand, yet supporters are too ashamed to wear the shirt or other merchandise of the club this morning for fear of ridicule and abuse from rival fans. It has to be the lowest point of this proud clubs history...