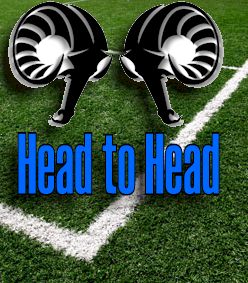 The Rams travel to Portman Road on Tuesday and we take a look at all the games in history between the two sides.
Ipswich hold a healthy lead at Portman Road, with 21 wins to the Rams 9 and 7 draws. Derby Do however hold a slight lead in wins when at Home with 14 wins to Ipswich's 10 with 12 draws.
Here are the full stats for Ipswich Town V Derby County. For every game against all the teams Derby County have ever played just click here. ..
At Ipswich Town (37)
At Derby County (36)
Results
Total
%
Results
Total
%
Ipswich Town
21
56.76
Derby County
14
38.89
Derby County
9
24.32
Ipswich Town
10
27.78
Draws
7
18.92
Draws
12
33.33
Goals
Total
Av.pg
Goals
Total
Av.pg
Ipswich Town
63
1.70
Derby County
53
1.47
Derby County
41
1.11
Ipswich Town
46
1.28
On Neutral Ground (0)
Overall (73 matches)
Results
Total
%
Results
Total
%
Ipswich Town
0
0.00
Ipswich Town
31
42.47
Derby County
0
0.00
Derby County
23
31.51
Draws
0
0.00
Draws
19
26.03
Goals
Total
Av.pg
Goals
Total
Av.pg
Ipswich Town
0
0.00
Ipswich Town
109
1.49
Derby County
0
0.00
Derby County
94
1.29
Records
Highest Aggregate
8
Ipswich Town
2 - 6
Derby County
1975/1976
Highest Ipswich Town score:
4
Ipswich Town
4 - 0
Derby County
1967/1968
Highest Derby County score:
6
Ipswich Town
2 - 6
Derby County
1975/1976
Season
Date
Home
Score
Away
Competition
2011/2012
Sat 07 Apr
Derby County
0 - 0
Ipswich Town
Championship
Sat 17 Dec
Ipswich Town
1 - 0
Derby County
Championship
2010/2011
Tue 01 Feb
Derby County
1 - 2
Ipswich Town
Championship
Tue 09 Nov
Ipswich Town
0 - 2
Derby County
Championship
2009/2010
Mon 05 Apr
Derby County
1 - 3
Ipswich Town
Championship
Sat 31 Oct
Ipswich Town
1 - 0
Derby County
Championship
2008/2009
Sun 28 Dec
Derby County
0 - 1
Ipswich Town
Championship
Sat 22 Nov
Ipswich Town
2 - 0
Derby County
Championship
2006/2007
Sat 14 Apr
Ipswich Town
2 - 1
Derby County
Championship
Wed 29 Nov
Derby County
2 - 1
Ipswich Town
Championship
2005/2006
Sat 22 Apr
Ipswich Town
2 - 0
Derby County
Championship
Wed 02 Nov
Derby County
3 - 3
Ipswich Town
Championship
2004/2005
Sat 02 Apr
Ipswich Town
3 - 2
Derby County
Championship
Sat 14 Aug
Derby County
3 - 2
Ipswich Town
Championship
2003/2004
Sat 03 Jan
Ipswich Town
3 - 0
Derby County
F.A. Cup
Sat 06 Dec
Ipswich Town
2 - 1
Derby County
League Division One
Sat 08 Nov
Derby County
2 - 2
Ipswich Town
League Division One
2002/2003
Sun 04 May
Derby County
1 - 4
Ipswich Town
League Division One
Sat 28 Sep
Ipswich Town
0 - 1
Derby County
League Division One
2001/2002
Sat 19 Jan
Derby County
1 - 3
Ipswich Town
Premiership
Tue 21 Aug
Ipswich Town
3 - 1
Derby County
Premiership
2000/2001
Sat 19 May
Derby County
1 - 1
Ipswich Town
Premiership
Sat 02 Dec
Ipswich Town
0 - 1
Derby County
Premiership
1995/1996
Tue 02 Apr
Ipswich Town
1 - 0
Derby County
League Division One
Sat 14 Oct
Derby County
1 - 1
Ipswich Town
League Division One
1991/1992
Sat 28 Mar
Ipswich Town
2 - 1
Derby County
Second Division
Sat 16 Nov
Derby County
1 - 0
Ipswich Town
Second Division
Tue 08 Oct
Ipswich Town
0 - 2
Derby County
League Cup
Derby County won 2-0 on aggregate
Wed 25 Sep
Derby County
0 - 0
Ipswich Town
League Cup
1986/1987
Sat 04 Apr
Ipswich Town
0 - 2
Derby County
Second Division
Sat 08 Nov
Derby County
2 - 1
Ipswich Town
Second Division
1984/1985
Wed 10 Oct
Derby County
1 - 1
Ipswich Town
League Cup
Ipswich Town won 5-3 on aggregate
Tue 25 Sep
Ipswich Town
4 - 2
Derby County
League Cup
1979/1980
Sat 29 Mar
Ipswich Town
1 - 1
Derby County
First Division
Sat 17 Nov
Derby County
0 - 1
Ipswich Town
First Division
1978/1979
Mon 16 Apr
Ipswich Town
2 - 1
Derby County
First Division
Wed 28 Feb
Derby County
0 - 1
Ipswich Town
First Division
1977/1978
Sat 31 Dec
Ipswich Town
1 - 2
Derby County
First Division
Wed 24 Aug
Derby County
0 - 0
Ipswich Town
First Division
1976/1977
Sat 14 May
Derby County
0 - 0
Ipswich Town
First Division
Sat 18 Dec
Ipswich Town
0 - 0
Derby County
First Division
1975/1976
Sat 24 Apr
Ipswich Town
2 - 6
Derby County
First Division
Sat 04 Oct
Derby County
1 - 0
Ipswich Town
First Division
1974/1975
Tue 25 Feb
Ipswich Town
3 - 0
Derby County
First Division
Sat 23 Nov
Derby County
2 - 0
Ipswich Town
First Division
1973/1974
Sat 23 Mar
Derby County
2 - 0
Ipswich Town
First Division
Sat 10 Nov
Ipswich Town
3 - 0
Derby County
First Division
1972/1973
Mon 30 Apr
Derby County
3 - 0
Ipswich Town
First Division
Sat 21 Oct
Ipswich Town
3 - 1
Derby County
First Division
1971/1972
Wed 22 Mar
Derby County
1 - 0
Ipswich Town
First Division
Tue 31 Aug
Ipswich Town
0 - 0
Derby County
First Division
1970/1971
Sat 16 Jan
Ipswich Town
0 - 1
Derby County
First Division
Wed 26 Aug
Derby County
2 - 0
Ipswich Town
First Division
1969/1970
Wed 20 Aug
Derby County
3 - 1
Ipswich Town
First Division
Tue 12 Aug
Ipswich Town
0 - 1
Derby County
First Division
1967/1968
Sat 02 Mar
Derby County
2 - 3
Ipswich Town
Second Division
Sat 14 Oct
Ipswich Town
4 - 0
Derby County
Second Division
1966/1967
Wed 28 Sep
Derby County
2 - 2
Ipswich Town
Second Division
Tue 06 Sep
Ipswich Town
4 - 3
Derby County
Second Division
1965/1966
Sat 15 Jan
Derby County
2 - 2
Ipswich Town
Second Division
Sat 23 Oct
Ipswich Town
2 - 2
Derby County
Second Division
1964/1965
Sat 17 Apr
Derby County
2 - 3
Ipswich Town
Second Division
Sat 24 Oct
Ipswich Town
2 - 1
Derby County
Second Division
1960/1961
Mon 24 Apr
Derby County
1 - 4
Ipswich Town
Second Division
Sat 27 Aug
Ipswich Town
4 - 1
Derby County
Second Division
1959/1960
Sat 09 Apr
Ipswich Town
1 - 1
Derby County
Second Division
Sat 21 Nov
Derby County
3 - 0
Ipswich Town
Second Division
1958/1959
Wed 17 Sep
Derby County
3 - 2
Ipswich Town
Second Division
Wed 10 Sep
Ipswich Town
1 - 1
Derby County
Second Division
1957/1958
Sat 08 Feb
Ipswich Town
2 - 2
Derby County
Second Division
Sat 28 Sep
Derby County
2 - 2
Ipswich Town
Second Division
1954/1955
Sat 26 Mar
Ipswich Town
2 - 1
Derby County
Second Division
Sat 06 Nov
Derby County
2 - 0
Ipswich Town
Second Division