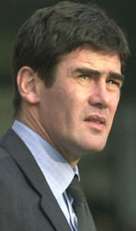 Has Newell got the post?
Despite claims by Luton that no approach has been made to take their manager, Mick Newell remains as favourite to succeed Phil Brown and stand in manager Terry Westley.
After the clubs first meeting of its new board members they were optimistic that Newell would be first past the post and become the 24th manager of Derby County Football Club.
The current consensus is that this will be a very good appointment for the club and for off-field dealings. Newell is known to be outspoken in his criticism of players agents and has recently expressed his displeasure at dealings, or bungs, that he claimed are rife in the Championship and speculated on the extent of the problem in the Premiership. One thing is certain however if Newell is to be the next Rams manager there certainly would not be a place in the club for ex-players agent Murdo Mackay.
I guess we will have to wait and see if the white smoke rises from Pride Park tomorrow
.