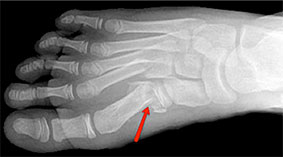 Nottingham Forest fan Derrick Wilson had no idea how unlucky both he and the Nottingham Forest team he supports would be when they visted Pride Park for the eagerly awaited clash of the two sides last Sunday.
The game was shown live on TV but 65-year-old Mr Wilson watches his team home and away and went from his Arnold home to Pride Park by coach.
On arrival at 12.45pm, just before the game was due to commence, Mr Arnold had his foot run over by another coach around the Pride Park area breaking a bone in his foot and also his wrist as he fell awkwardly.
Having been taken to the Royal Derby Hospital for treatment, he missed his sides 2-0 defeat to the Rams, so he was spared some pain on the day, although he now faces up to 9 weeks off work due to the accident.
We wish him a speedy recovery and hope the pain from the broken bones and the defeat go away soon.