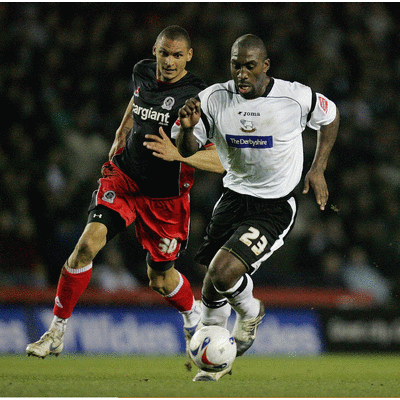 Darren Moore must sit out the rest of the season after being found guilty of violent conduct
Darren Moore will have to serve a four match suspension after being found guilty of violent conduct in the Good Friday game at the Walkers stadium , Leicester.
This has come as a bitter blow to the Rams end of season and will mean re-shaping the centre of defence for the final four games. Moore will be eligible to play should the Rams not gain automatic promotion to the Premiership. He will be free to play in the first of the Play-off semi finals.
Rams manager Billy Davies is shocked by the news, as he doesn't rate Darren as "That kind of player". Davies gave all the assistance possible by a manager for one of his players but it seems the FA were determined to de-rail the Rams promotion bid and wanted Moore to pay the price for an accidental clash during the game with Leicester City.