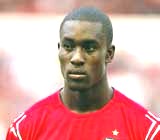 Carlton Cole will he be the next big signing?
several rumours that the big name transfer talked about by Peter Gadsby on BBC Radio Derbys phone-in programme may be Carlton Cole.
The reports stated that Cole was seen today at Moor Farm training ground along with the Rams Chairman and that a transfer was imminent. Further talk was that Cole had been left out of the Hammers reserves for their game against Fulham tonight (Tuesday 14th) . It now appears that Cole actually played in the match so the guessing game begins again. West ham Lost the match 4-1
It is quite possible that a fast car or more likely a helecopter could have ferried the 23 year-old striker back down to London in time, if rumours of the meeting at Moor Farm were true.
The signiture of Cole would certainly be the "coupe" Mr Gadsby has been talking about in connection with the next signing for the club but we will all have to wait and see if the rumour mill has this one correct.