The re-location of the Derby County Barmy Army to the North Stand is still on-going at a steady pace. At the present moment in time we are informed by the leaders of the Barmy Army that around half of their target figure has been reached.

The Club helped out in making people aware of the move with an article in the programme for the last game of the season and they continue to offer their support for the move.

Supporters who would like to join the Barmy Army in their new North Stand home have only a limited time to have their seats moved for them by organisers of the Barmy Army, the dead-line being May 16th. Supporters with a season ticket can relocate themselves to the area designated for the Barmy Army after the deadline date at the Ticket office.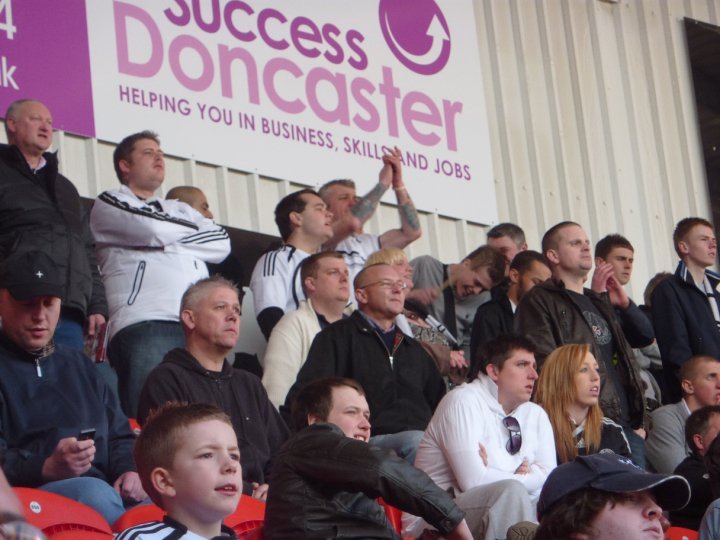 The Barmy Army, relocating to give the away supporters a barrage of sound next season

A meeting between the club and Barmy Army leaders has been arranged to finalise any problems which may occur with the re-location. This will be held on Friday 14th May at Pride Park Stadium.

This initiative to move vocal supporters and produce much needed banter between opposition fans in the South Stand will undoubtedly help the team on the field during next season. It is hoped banter between this new section and the South East corner section of the Rams support will create an atmosphere similar to the old baseball ground days, where the Popside, Ossie end and C-stand made an intimidating wall of sound for the opposing players and fans alike.

The Barmy Army have produced a form to make moving your seat and joining the Barmy Army next season easier. To View it please click here. Don't forget though the completed form needs to be in for Sunday 16th May.

We will keep you updated in the coming days to progress in achieving the Barmy Army's aims...