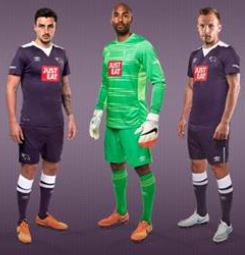 Another season and another away kit. The Rams have just unveiled their new creation for away matches in the Championship.
A stunning (Deadly) nightshade, purple is the colour of choice this time around, it also features a white crew neck collar, similar to the 1970's Rams shirt colar.
The shorts are in the same nightshade colour with a small white trim on the side. The socks again are nightshade with a large white top.
Our first impressions? Ok shirt, nothing shocking but nothing outstanding for the season ahead. Let us just hope that the Rams are Deadly nightshade, away from home this season.