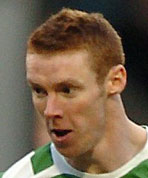 Stephen Pearson will be a Ram within the next 48 hours
Derby County are on the brink of bringing long time midfield target, Stephen Pearson, to Pride Park.
The 24-year-old Celtic midfielder has been wanted by Billy Davies for a few months and it now looks as if he will sign for the Rams within the next 48 hours.
Pearson was at Pride Park yesterday and witnessed his new team mates dispose of Wrexham in the 3rd Round of the FA Cup. He has also been shown the impressive training facilities at Moor Farm and has toured Pride Park stadium. Something that must impress a young man eager to make his mark in football.
The possibility of Premiership football next season must also have been a big incentive for the Scot, who has also five Scottish International caps to his name.
Rams manager Davies is excited by the left-sided midfielder and thinks he will add pace and the odd goal from that side of the park.
All that remains is for Pearson to agree personal terms with Derby County and the transfer will go ahead, something we expect in the next 48 hours.