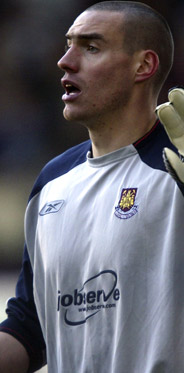 Rams boss Davies keeping faith with Stephen Bywater
Despite a poor show on Wednesday by Rams keeper Stephen Bywater, Billy Davies is still set to keep faith with him and will start against the Baggies this Saturday.
Bywater was one of the most recent signings by Davies and he was keen to get him back into the side despite impressive performances by Lee Grant. Davies said "Bywater was brought as number one and he will remain as number one unless his performances are not what they should be"."
Davies also praised the work of Lee Grant but feels that Bywater is just that bit better at the moment, but Grant is a very able understudy.
Many have blamed Bywater for Barnsley's goal in midweek, he appeared to mis-judge a cross and only succeeded in tipping it partially away with his finger tips. The ball sat nicely for Bobby Hassell who finished well.
Hopefully Bywater has now rid himself of the jitters and poor handling he displayed in midweek. The acid test will come tomorrow when he and the Rams take on West Bromwich Albion at Pride Park. A sever test for the Rams, one which they will hopefully pass.