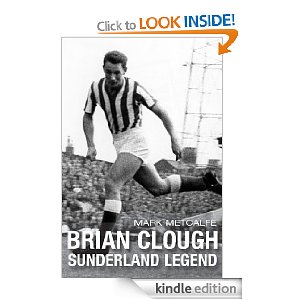 We are please to bring to you another book about a Rams legend. Sold in the kindle format, 'Brian Clough-Sunderland Legend is all about the grea mans footballing career with Sunderland, which was sadly cut short by injury.
To purchase a copy for the very cheap price of just £1.64 click here. Obviously you will need to have a Kindle to enjoy the ebook. The book is written by Mark Metcalf and is well worth a read.
Brian Clough is one of Sunderland's outstanding goalscorers. With 63 goals from 74 matches his goals per game ratio of 0.85 puts him second behind David Halliday, whose goals came during the much less defensive 1920s.

Goals, goals, goals was what Clough wanted and this book reveals how he got them in a fine Sunderland side that he was leading, after already scoring 24 times, to promotion in 1962-63 when he suffered a Boxing Day injury that effectively ended his playing career.

Having lost him on the pitch, we see how Sunderland then chose to ignore Clough's genius off it, overlooking his fine record in coaching the Youth side and suffering the consequences ever since.

About the author
Mark Metcalf is a lifelong football fan with a particular passion for Sunderland AFC and has watched over 2,000 of the clubs matches since his first appearance at Roker Park in the mid 60s...