The Rams have tough and key games all season but non can be more crucial than today's clash with Everton.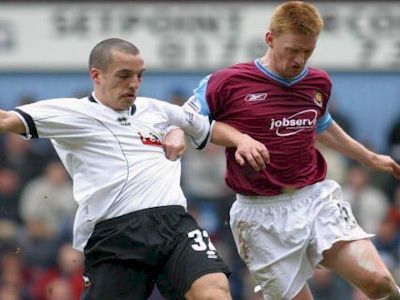 Leon Osman during his loan spell with the Rams
If Derby County are to stay in touch with the half dozen or so teams in or near the relegation zone it is vital to pick up three points from the Toffee's.
The game may revolve around the little men, that's stature and not talent. Everton have their tiny midfield dynamo and former Rams loanee, Leon Osman. The midfielder was loaned to the Rams in January 2004, making a significant impression on the Rams season, playing 17 times and scoring 3 goals.
It could be said that Leon's career started at Derby, as the then 23year-old was not a regular in the Toffee's first team until his remarkable time at Pride Park. The Rams wanted to sign Leon but Everton manager David Moyes saw the potential and the rest is history for Osman, now one of the first names on the Everton team sheet.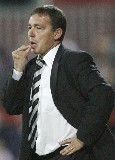 Will Billy Davies outwit Everton ?
To counter the diminutive effect of Osman the Rams have their own mini dynamo in Billy Davies, the energy and know how must be there again from the Small Scot. He will hopefully be making the decisions needed to overcome Everton and take the Rams out of the relegation zone.
The Rams must also be vigilant when it comes to another Rams old boy, Lee Carsley, or "the Guvnor " as he was called . Lee, now 33 years of age has served both the Rams and Everton well with his "governing" of the midfield area.
Another former Ram that must be watched closely today is Yakubu, Ayegbeni the striker that would have been a Rams player but for work permit difficulties, is now one of the Premierships leading strikers.
Yakubu is remarkably not 25 until November 22nd of this year has scored an amazing 80 goals in just 179 whilst with Middlesbrough, Portsmouth and this season with Everton.
Let us hope it is not a case of the old boys coming back to haunt us this afternoon...
The impressive Stats for Yakubu