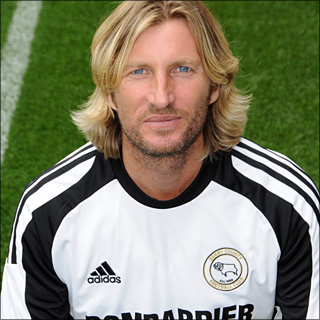 Derby County's captain on fine form at the Royal

I had a very enjoyable evening last night at the Royal, Derby for "An Audience With Robbie Savage."



Robbie received a warm welcome from a packed house of around 350, where it was standing room only unless you'd got there early. Fortunately getting there early meant I had a seat.



The evening was divided into three parts - the first, Robbie being interviewed (by Radio 5 Live commentator, and Nottingham Forest fan, Darren Fletcher) on his football career prior to joining Derby County. The anecdotes mainly featured on his time at Leicester City, under Martin O'Neill, including the infamous trip to La Manga in 2000 when the team were thrown out of the hotel, and the equally infamous story when Robbie used referee Graham Poll's toilet before a Leicester game against Aston Villa.



And yes, Derby County Mad got a mention from Robbie himself: "I know some of the Derby Mad lads are in so I'd better be careful what I say as I know they will all be sat here texting the board from their mobiles."



Darren Fletcher, who received a mixed reception with plenty of boos initially, won the crowd over as he was, at least for one evening, a Derby County fan, or at the very least a Robbie Savage fan. He added some anecdotes of his own, mainly about Brian Clough. Here's my favourite.



Brian Clough had signed Justin Fashanu for Nottingham Forest but soon realised it was a mistake and was looking to send him back to Norwich City. Fashanu came to him and said: "Gaffer, I've been discussing the Norwich move with God, and God said it isn't the right move for me at this stage of my career." Brian Clough's instant reply was: "Son, there's only one God in Nottingham and he thinks it's a terrific idea!"



In the second part - some fantastic sporting memorabilia was auctioned off for charity, with a Brazilian shirt signed by Pele fetching £300.00. Overall, hundreds and hundreds of pounds must have been raised on the night, with Robbie's chosen charity being the Lewis Mighty Fund.



In the third and final part - Robbie took questions from the floor about his time at Derby County. This part was interesting, but it was clear that Robbie could only say so much and wasn't prepared to step over the line.



This was most apparent when Robbie was asked about Paul Jewell. It is credit to Derby County's captain, after everything that had happened to him under Mr Jewell, that Robbie wouldn't say a bad word about him.

What Robbie did give us was his opinion that Paul Jewell thought he was signing the Robbie Savage that had played for Blackburn Rovers against Wigan Athletic, a Robbie Savage that ran around a lot, breaking up the opposition's play, and winning the ball back, but admitted that he wasn't that player any more. He talked about being banned from Pride Park on match days because "if the fans see you in the crowd, and boo, it will put the team off." Robbie was also banned from the training ground and made to train with the kids. He did conclude by saying he loved Derby County and had Paul Jewell to thank for bringing him here.



Asked outright if he thought Derby County would still be in the Championship next season, Robbie said: "Yes. Definitely."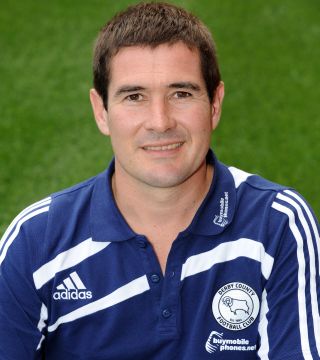 Robbie urges Rams fans to back, not slaughter the gaffer, and Nigel Clough will take the Rams to the Premiership eventually

On the subject of the current situation, Robbie assured us that Nigel Clough was definitely here for the long haul and had already done terrific things at the club, particularly off the field. He stated that the gaffer had inherited a club that had been adversely affected by the over spending of previous regimes buying mediocre players on high salaries. The gaffer had reduced the salary bill from £19 million to around £10 million, including Robbie taking a 50% wage cut in return for another year on his contract, with some more ("it's complicated," Robbie said) paid at the end.



Robbie explained that just because Derby County were getting 30,000 crowds didn't mean the Rams were a big club. On the field, he said, we aren't a big club and there are smaller clubs better equipped than us right now.



But he also said that he was confident Nigel Clough would sort it out, given time, and take Derby County back to the Premiership.

Robbie said that every football club has a minority of fans who are always criticising and getting on the manager's back, but pointed out that this is counter-productive. Right now, Robbie said, the only thing that will eventually stop Nigel Clough from taking Derby County back to the Premiership in the future is the small minority of Rams fans who are intent on going out there and slaughtering him every week.



Robbie admitted that performances weren't great right now but assured us that every player is going out there and giving his best, sometimes it's good enough, sometimes it's not, but no player goes out there thinking 'I'm not going to try today.'



To illustrate the point Robbie said that in 16 years as a professional footballer he always prepared the same way before a game, but that sometimes on the morning of a game he'd wake up and not feel right and think 'this isn't going to be my day.' "You can't explain it," Robbie said, "it's nothing you can put your finger on. Players are human too and some days you feel better than others."



"Every club has it's scapegoats," Robbie added, "and at Derby I think it's me, Tealey, and Robert Hulse. I give the ball away at times, quite often. Tealey could get better crosses in, very often. Hulsey could hold it up better. But booing doesn't help, I understand your frustration but believe me, booing the team during the game doesn't help."



There was a lot of humour too, with some amusing anecdotes about his "best mate" Stephen Bywater who wants to be a cage fighter when he finishes playing football. Apparently he'd be fighting now if Nigel Clough would allow it.



Finally though, to sum up the humour of our captain, Robbie told a story about the pre-season game at Torquay United. The home fans were chanting "Gypo, gypo!" and "Where's your caravan?" You know, the usual stuff. Anyway, in response to this, when the ball went out for a throw-in, Robbie told them: "In Monaco with my boat!"



An Audience With Robbie Savage was a great night and, if you weren't there, you missed a treat. You really did.